Detroit Bishop Reveals He Was Once Abused by Priest

By Cathy Lynn Grossman
USA Today [Ohio]
January 11, 2006

http://www.usatoday.com/news/nation/2006-01-11-bishop_x.htm?POE=NEWISVA

A 75-year-old Detroit Catholic bishop stunned his church, Ohio legislators and victims of sexual abuse nationwide Wednesday when he revealed one reason he supports victims' rights to sue, no matter how long ago the abuse occurred: He was molested by a priest more than 60 years ago.

"I have more insight into why it is so difficult for victims to come forward within the legal time limits, to expose themselves, open up their privacy to the public," Auxiliary Bishop Thomas Gumbleton said.

When he was a 14-year-old student in a high school seminary, Gumbleton said, a professor in his 40s took him to a cottage, wrestled with him and put his hands down his pants.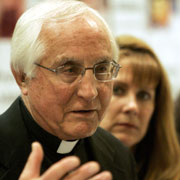 Auxiliary Bishop Thomas Gumbleton, 75, of Detroit speaks Wednesday at a press conference in Columbus, Ohio. By Kiichiro Sato, AP




"I knew it wasn't right, and I didn't want it to happen anymore," he said in a telephone interview before a news conference in Columbus, Ohio.

There, he joined with the Survivors Network for those Abused by Priests in lobbying the Ohio House of Representatives. The House is considering legislation, already passed unanimously by the state Senate, to open a one-year window in the statute of limitations on sexual abuse by clergy.

Gumbleton is the first bishop to publicly support such a window. Ohio bishops, like the U.S. Conference of Catholic Bishops, are adamantly opposed.

"I am not out to get the Ohio bishops, but I care about these victims. I have a deep sense of compassion for how difficult it has been for them," he said.

As a teenager, he said, he was troubled but not traumatized, and he never told his parents about the incident. The professor, whom he did not identify, died a decade ago, he said. He thought but never knew for certain that no one else was victimized.

"We all think we were the only one," said Barbara Blaine, founder and president of the abuse survivors network.

Gumbleton argued that full disclosure of the abuse is essential to hold perpetrators and the church accountable, heal victims and restore the church's "moral credibility" at a time when "more than a few feel that church social teachings ring with hypocrisy."

In a written statement released earlier, Gumbleton said he spoke only for himself, as a priest for 49 years, a bishop for 37 years, and "out of my own experience of being exploited as a teenager through inappropriate touching by a priest."

"It might seem easier to keep the evils hidden, to move on and trust that the future will be better. But I am convinced that a settlement of every case by our court system is the only way to protect children and to heal the brokenness within the church," he wrote.

But Mark Chopko, general counsel for the bishops group, said Wednesday that creating a window for litigation is "fundamentally unjust," and he wondered whether Gumbleton "thought through all the implications" of such legislation.

"His whole life has been committed to helping the poor and those disserved by society. What happened to him was wrong. But this 'window' is also wrong," Chopko said.

"It won't protect one more child in the USA."

The abuse scandal has cost the church more than $1 billion in settlements with victims, care and counseling for victims and priests, and prevention programs.

Three dioceses facing claims - Portland, Ore., Tucson and Spokane, Wash. - have filed for bankruptcy, and the Archdiocese of Boston shuttered dozens of parishes. In California, which changed its law in 2003 to allow more than 800 accusers to file suit, hundreds of negotiations are stalled in a battle between the Archdiocese of Los Angeles and insurance companies over liability for claims.

More than 5,000 priests abused more than 11,000 minors in a 55-year period, according to a study sponsored by the bishops and conducted by the John Jay College of Criminal Justice. The bishops also instituted an elaborate prevention and reporting program in every parish and an annual national audit of bishops' compliance.

"The church is fundamentally committed to a just resolution of these claims," Chopko said, even when they are "desperately out of date and barred by the statute of limitations."

Chopko said the window "undermines these efforts" while prompting "an outpouring of litigation," driving dioceses to or over the edge of bankruptcy.

"It could result in an disruption in parish life, or cutback in services to save money. The people who bear the brunt sit in the pews today and those, by and large, are the poor and the vulnerable."