Bishop Gumbleton Says Priest Abused Him When He Was a Teen

By Jerry Filteau
Catholic Explorer
January 12, 2006

http://www.catholicexplorer.com/explore4325/nationworld/bishop-gumbleton-says-pri.shtml

WASHINGTON (CNS) -- At a legislative hearing and a press conference Jan. 11 in Columbus, Ohio, Auxiliary Bishop Thomas J. Gumbleton of Detroit said he was sexually abused by a priest when he was a teenage seminarian.

He called for passage of pending legislation in Ohio that would open a one-year window for civil lawsuits against the church for clergy sexual abuse of minors that occurred many years ago.

The bishops of Ohio oppose the one-year window although they support other parts of the bill, including a longer statute of limitations for lawsuits based on claims of childhood sexual abuse.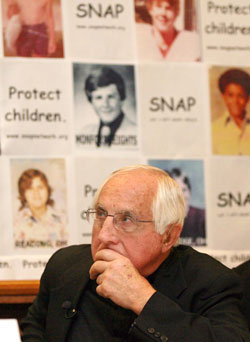 Detroit Auxiliary Bishop Thomas J. Gumbleton looks on during a Jan. 11 press conference in Columbus, Ohio, at which he revealed that he was sexually abused by a priest when he was a teenager and spoke in favor of reforms to state child molestation laws. (CNS photo/Matt Sullivan, Reuters)



Bishop Gumbleton, 75, did not name the now-deceased priest who molested him some 60 years ago, when he was a freshman or sophomore at Detroit's Sacred Heart Seminary High School. He called the abuse "very inappropriate" behavior by the priest but said it was "minor" compared with the kind of abuse many other victims have suffered.

He said that on two or three occasions the priest, a faculty member at the seminary, took him and another seminarian to a cabin and would start wrestling matches with them. When he and the priest wrestled, "he would put his hand in my pants," he told the Detroit Free Press shortly before he flew to Columbus to testify in favor of the Ohio legislation.

Bishop Gumbleton said he did not feel traumatized or psychologically damaged by the priest's actions. "Mainly, I didn't realize what was happening. I was very naive at the time," he told the Free Press.

The bishop, who is noted for his peace activism and extensive involvement in social justice issues, is believed to be the first bishop to state publicly that he had been abused as a minor by a priest.

In his prepared testimony before the House Judiciary Committee of the Ohio General Assembly, he urged passage of a bill, previously approved by the Senate, that would amend Ohio law on abuse and neglect of minors in several ways.

It would include clerics as mandatory reporters of known or reasonably suspected abuse of a minor. It would extend the statute of limitations for suing over damages caused by childhood sexual abuse, currently two years past the age of 18, to 20 years past the age of 18.

In addition, for one year from its effective date, the new legislation would open a window for lawsuits over past abuse going back as far as 35 years. Claimants would be able to introduce new suits for which no claim was previously made or reintroduce suits previously filed that had been dismissed because of the current statute of limitations.

In testimony on behalf of the Ohio Catholic Conference last December, Bishop Frederick F. Campbell of Columbus said the bishops supported an earlier version of the bill that did not have the one-year "look-back" window, but they oppose the window provision.

"It undermines the fundamental right to a fair and just defense, it is bad public policy that undermines the stability of law and it does not protect children," he said. The conference represents all the state's bishops.

In his Jan. 11 testimony, a copy of which he provided to Catholic News Service, Bishop Gumbleton told the committee he spoke not in any official capacity but only as a man with 50 years of pastoral and administrative experience as a priest, including 38 years as a bishop.

"I also speak from my experience of listening and attempting to be responsive to the tragic stories of victims of sexual abuse," he said. "Finally, I speak out of my own experience of being exploited as a teenager through inappropriate touching by a priest."

He told the committee that he believes that "some perpetrators have not yet been brought to account. That is why I support the one-year civil window. I do believe that the abusers need to be exposed. I also believe that this can only be assured if the possibility exists to bring these matters into a civil court of law."

He also argued that "by bringing these cases to full exposure and full accountability, we have a better possibility of restoring credibility in church leaders as moral teachers and guides." He quoted a statement from the 1971 world Synod of Bishops on justice: "Anyone who ventures to speak to people about justice must first be just in their eyes."

He acknowledged that bringing old cases to court "may cause pain, embarrassment and sacrifice for our church" but suggested that settling all such cases is "the only way to protect children and to heal the brokenness within the church."

In a statement responding to Bishop Gumbleton's testimony, the Catholic Conference of Ohio said, "Ohio's bishops continue to staunchly support all provisions of Senate Bill 17 with the exception of the look-back provision, which they believe is retroactive legislation specifically prohibited by the Ohio Constitution."

"Healing is not achieved by lawsuits but by working with those who have suffered abuse, ministering to them pastorally and helping to meet their individual needs," the statement added. "This is what Ohio's dioceses and its bishops are doing and will continue to do."

In Detroit, Cardinal Adam J. Maida said he was especially saddened to learn that Bishop Gumbleton was apparently an abuse victim many years ago. "The Detroit Archdiocese was never made aware of this," he said.

Msgr. Ricardo Bass, Cardinal Maida's delegate for clergy matters, took the occasion to urge any victim of clergy abuse in the Detroit Archdiocese to contact the archdiocesan victim assistance coordinator.