Silence Shattered on Sex Abuse
Detroit Bishop Backs Bill Expanding Victims' Rights

By Jim Siegel and Dennis M . Mahoney
The Columbus Dispatch
January 12, 2006

http://www.columbusdispatch.com
/news-story.php?story=dispatch/2006/01/12/20060112-A1-01.html

Detroit Auxiliary Bishop Thomas J. Gumbleton yesterday broke 60 years of silence about the sexual abuse he says he suffered at the hands of a priest, hoping to convince Ohio lawmakers that other victims deserve their day in court.

Gumbleton surprised Roman Catholic Church leaders in Ohio when he showed up in Columbus to publicly support a bill allowing sex-abuse victims to sue for crimes that occurred up to 35 years ago. Ohio bishops have spent months lobbying to defeat the provision.

"It's the only way that priests or bishops in the church who either were perpetrators or covered up the perpetrators will be truly held accountable," Gumbleton told a room filled with reporters and cameras. "It seems that on our own, we're not willing within the church to hold ourselves accountable to the victims for what has happened."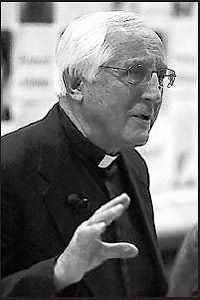 ADAM CAIRNS | DISPATCH
Bishop Thomas J. Gumbleton finds himself at odds with the church on the Ohio bill.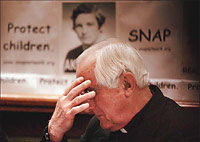 CHRIS RUSSELL | DISPATCH




Gumbleton also criticized a pro- posal by the Catholic Conference of Ohio to create a registry of church sex abusers instead of giving victims one year to sue for past sex crimes.

"It would not meet the needs of the victims," he said. "We need to be interested in whatever is going to make every victim as healed as possible."

Timothy Luckhaupt, executive director of the Catholic Conference of Ohio, said Gumbleton's views do not represent bishops in Ohio or Michigan.

"I don't know why his position on this or his statement would have more effect on members of the House than anyone else they've heard from."

The Ohio Senate unanimously passed Senate Bill 17 in March, but it has stalled in the House over concerns about its constitutionality and whether it would have wider negative impacts on the state's insurance industry.

Rep. John Willamowski, a Lima Republican and chairman of the House Judiciary Committee, called Gumbleton a "profile in courage," but he was unsure if his support would boost the bill.

Willamowski said he'll give his colleagues until the end of January to craft a reasonable alternative to extending the statute of limitations. Rep. Louis Blessing, R-Cincinnati, an opponent of the bill, sounded doubtful such a compromise would be found.

Columbus Bishop Frederick Campbell testified before the House committee last month that the bill is unfair because it would force churches to defend old cases where evidence or accused priests could be gone. He also stressed that the church has made great strides in addressing past sex abuse and coverups and in reaching out to victims.

But Gumbleton, flanked by members of the Survivors Network of those Abused by Priests, the prime supporters of the proposal, said church reforms haven't done enough.

"They haven't dealt with the problem if there are people out there who say they need to be heard," he said. "I don't know how Bishop Campbell can say we've dealt with it totally."

Gumbleton said he was abused at age 15, when a priest took him and other boys to a cabin after seminary school. While wrestling with him, the priest would put his hand down the back of his pants, he said.

Even 60 years later, he struggled to discuss it, saying he's embarrassed and feels like he shouldn't have let it happen.

"That makes me understand why victims have a difficulty speaking."

Under current law, a civil lawsuit for child-sex abuse must be filed before the victim turns 21.

Gumbleton's boss, Detroit Archbishop Adam Maida, said yesterday in a statement that he was saddened that Gumbleton apparently was an abuse victim. He said the archdiocese was never told of it.

Monsignor Ricardo Bass, Maida's delegate for clergy matters, said in the statement that statutes of limitations have "served society well in protecting the rights of everyone, especially after long periods of time."

He added: "Bishop Gumbleton's experience is indeed regrettable and, no doubt, it frames his personal opinion on this matter. As we would with any person in his situation, the archdiocese stands by its commitment to provide counseling assistance as needed."

Gumbleton became a priest in 1956. He held several administrative positions for the archdiocese and, in 1968, became the youngest man to be ordained a bishop in the United States.

Gumbleton has been identified with many liberal causes through the years. He has made his anti-war views well known, beginning with Vietnam in the 1960s and continuing through the wars in Iraq.

In a 1998 Columbus speech, he criticized U.S. actions in the Persian Gulf and said Iraqi leader Saddam Hussein was not the madman portrayed by the U.S. news media.

He also has been an advocate for the acceptance of gays in the church, including their ordination to the priesthood. Gumbleton, who has a gay brother, spoke here at a conference on homosexuality and Christianity in 2000.

Last year, Gumbleton refused to submit his resignation to the Vatican, even though bishops are required to do so when they turn 75.

Gumbleton also is supporting efforts to expand the statute of limitations for child-sex abuse in Pennsylvania and New York. A similar proposal approved by California in 2003 led to the filing of about 800 lawsuits and was recently upheld by a U.S. District Court judge.

"I'd prefer it be done outside of a court of law," Gumbleton said. "I regret we need this kind of legislation. But I insist that we do need it."

jsiegel@dispatch.com

dmahoney@dispatch.com