Detroit Bishop Reveals He Was Victim of Abuse

By Jerry Wolffe
The Oakland Press [Michigan]
January 12, 2006

http://www.theoaklandpress.com/stories/011206/loc_2006011201.shtml

The admission by Auxiliary Bishop Thomas Gumbleton of Detroit that he was sexually abused by a priest when he was 15 is "just the tip of the iceberg" of the sexual abuse scandal in the Roman Catholic Church, a local victim said Wednesday.

Gumbleton, 75, disclosed his abuse Wednesday in support of a bill pending in the Ohio House that would lift a one-year limit for sex abuse victims to sue the church for alleged abuse that occurred up to 35 years ago.

"I regret that we need this type of legislation, but I insist we do need it," he said before meeting with House lawmakers who are undecided on the bill.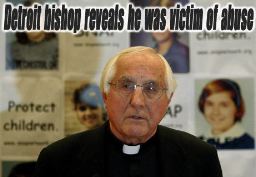 Auxiliary Bishop Thomas Gumbleton, 75, of Detroit speaks Wednesday at a press conference in Columbus, Ohio in support of an Ohio bill that would remove time limits that have prevented past victims from suing the church over their alleged abuse. Gumbleton is believed to be the first U.S. Roman Catholic bishop to disclose that he was a victim of sexual abuse by clergy. -AP Photo




Gumbleton said he was a 15-year-old seminary student in Detroit when a priest took him and other boys to a cabin northeast of the city. The priest started wrestling with him playfully, then put his hand down Gumbleton's pants. He said he quickly removed himself from the situation.

The archbishop of Detroit, Cardinal Adam Maida, said in a statement that he is "always disheartened whenever he hears of a claim of clergy sexual abuse." He said he was "especially saddened by the report that Bishop Thomas Gumbleton ... was apparently a victim himself many years ago."

Monsignor Ricardo Bass, Maida's delegate on clergy matters, said: "As we would with any person in his situation, the archdiocese stands by its commitment to provide counseling assistance as needed."

Bill McAlary, 60, Detroitarea director of the Survivors Network of those Abused by Priests, said there are 6,000 SNAP members nationwide, and he suspects 10 times that number of people have been sexually abused by clergy.

"They (the church) want to diminish the signifi cance of the story, as much as possible, because it is very damaging to them," McAlary said.

McAlary, of Farmington Hills, said that if Maida were so willing to help victims of sexual abuse by priests, he could "start sending us a check" to pay for the extensive counseling needed after the abuse, "instead of hiding the money by distributing it to other churches and Catholic organizations."

He said most victims receive a few counseling sessions from the church "and then are sent out on the streets."

It's not the first case involving a prominent Michigan fi gure.

In the spring of 2002, Tom Paciorek, now 59 and a former major league ballplayer for 18 years, accused a priest of sexually abusing him when he was a minor in the 1960s. The priest denied the abuse when Paciorek lived in the Detroit enclave of Hamtramck. The clergyman was never charged with a crime because the statute of limitations expired.

McAlary, who is divorced and has a 20-year-old son, said he was sexually abused when he was 12 years old. He did not file a lawsuit. He said the priest fondled him several times.

He was "unemployed and unemployable and incapable of any human relationship," for most of his life until he connected the clergy sexual abuse of him with his failures and alcoholism, McAlary said.

"I went to Alcoholics Anonymous in 1978 and got sober," he said. "I finally connected the abuse and my failures in 1990 and started intensive therapy."

McAlary, a sales executive for a software company, said he has spent up to $1,000 a month for "intensive therapy" for years and still spends about $450 a month in therapy to recover from the trauma.

He said it is diffi cult to overcome sexual abuse because of feelings of shame, especially when it was committed by a priest, because a priest represents one of society's highest "authority and spiritual" fi gures.

Gumbleton has made a "big step forward for his own recovery" by admitting he was abused, said McAlary. "Like myself, he needs to come forward now to get the help he needs.

"My childhood was stolen by the least likely person society would expect ... a priest," he said. "It was taken away and thrown away by a shameless priest."

Even now, he's embarrassed when talking about it - which makes him understand why some victims never brought lawsuits within legal time limits, two to fi ve years in most states, after reaching age 18.

Gumbleton said he'd thought about bringing up the incident at meetings of bishops, but the timing wasn't right. The slowing down of Ohio's bill, which unanimously passed the Senate, prompted him to come forward.

The auxiliary bishop said he supports the Ohio bill, which would remove time limits that have prevented past victims from suing the church regarding their alleged abuse. He said some perpetrators have not yet been exposed, and the only way to ensure they will be is through the courts.

Ohio bishops agree with extending the time limits for future abuse cases but have vigorously lobbied against a provision allowing a one-year window for victims to sue over abuse that happened up to 35 years ago.