13th Lawsuit Filed against Pueblo Diocese Alleging Abuse

By Patrick Malone
Pueblo Chieftain
January 14, 2006

http://www.chieftain.com/metro/1137231550/6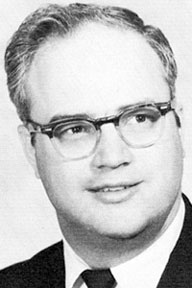 William Mueller




A 13th lawsuit has been filed against the Catholic Diocese of Pueblo over allegations of sexual abuse by clergy decades ago, according to court records released Friday.

The latest suit is the 12th filed since September alleging that former Marianist Brother William Mueller used ether to render a Roncalli High School student helpless, then molested him. The Society of Mary religious order also is named as a defendant in the suit.

Similar allegations against Mueller have been made in Texas and Missouri. Mueller left the Marianist order voluntarily in 1986 after receiving treatment in New Mexico for "bizarre behavior," according to a Marianist spokesman. Mueller now resides in San Antonio. Mueller is not named as a defendant in the suits. Another suit filed against the diocese in November alleges that former priest Andrew Burke molested an altar boy at St. Pius X church in the early 1970s. Burke committed suicide in September, when the allegations against him were about to be published by news organizations.

The diocese recently denied a request by The Pueblo Chieftain to inspect its records on Roncalli and the clergy accused of abuse. In a written response, Bishop Arthur Tafoya cited personnel privacy policies.

The suit filed this week in Pueblo bears haunting similarities to allegations against Mueller in St. Louis, where a former student accused him of trying to subdue him with ether, then using a knife to intimidate him while trying to molest the boy.

In the latest suit, Mueller's accuser is identified in court documents only as John Doe No. 8, a 49-year-old man who lives in Pueblo. He attended Roncalli during the 1970-71 school year as a 14-year-old freshman enrolled in religion and music classes taught by Mueller. The school closed in 1971.

Like many of the previous suits that have been filed in Pueblo court against the diocese and the Marianist order, the latest suit accused Mueller of asking the boy to participate in a psychological experiment.

The boy allegedly met Mueller in the school's music room and was placed on a table. Mueller then held a rag soaked in ether over the boy's face, causing him to lose consciousness, the suit alleged. As the boy drifted in and out of consciousness, he noticed Mueller's hands on his genitals.

The suit also claimed that Mueller held a knife to the boy's throat while Mueller fondled him, and that Mueller pressed the knife to the boy's throat at the end of the ordeal and warned him not to tell anyone what had happened.

The suit filed this week was brought by the Miami law firm of Herman & Mermelstein, which also filed each of the earlier suits, with the help of Englewood lawyer Alan Molk. The suit seeks an unspecified damages exceeding $100,000.