Bishop, Diocese Dispute Efforts
Spokesman Says Church Aims to Help Victims of Sex Abuse

By Patricia Montemurri montemurri@freepress.com
Detroit Free Press
January 16, 2006

http://www.freep.com/apps/pbcs.dll/article?AID=/20060116/NEWS06/601160343/1008/NEWS

Auxiliary Bishop Thomas Gumbleton said Sunday that he'd support new Michigan laws to give victims more time to sue for monetary damages over long-ago sexual abuse by predatory Catholic priests -- legislation that's opposed by the state's top Catholic officials.

But Archdiocese of Detroit spokesman Ned McGrath suggested Sunday that Gumbleton is being hypocritical, and said that Gumbleton authorized church lawyers to invoke the same statute of limitations law he's now criticizing to block lawsuits which contended local church leaders, including Gumbleton, failed to monitor a onetime priest accused of abusing youngsters decades ago.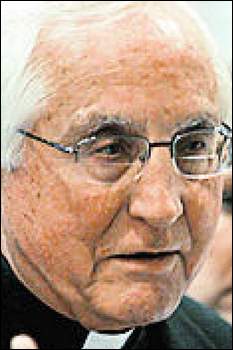 Thomas Gumbleton

"I'm surprised by Bishop Gumbleton's stand on this," McGrath said. "He's authorized the archdiocese lawyers to use the statute of limitations stance on his defense."

Gumbleton disputed McGrath's statement, saying that defense was invoked "without my knowledge" and added that he had no oversight of the priest identified as an abuser in the lawsuits.

Last week, Gumbleton said he'd been inappropriately touched by a priest when he was a teenager attending Detroit's old Sacred Heart Seminary high school in the mid-1940s.

Speaking after Sunday mass at the church where he's pastor, St. Leo's just northwest of downtown, Gumbleton said the Catholic church should be more concerned with victim outreach than protecting diocesan bank accounts.

"I figure whatever the price, you have to speak the truth," said Gumbleton, 75. He said he was unaware of past failed legislative attempts in Michigan to change the statute of limitations, but he would lobby for them now.

"If it costs us lots in material goods, the spiritual purification will be worth it," Gumbleton said. "The more I hear from these survivors, the more widespread I think this is."

Bills to remove time limits on pursuing older abuse cases have gone nowhere in the Michigan Legislature to date. Lawsuits brought by victims have been thrown out of court as a result. Some cases are now on appeal before the Michigan Supreme Court.

Among the lawsuits that were blocked are ones filed by victims of former priest Jason Sigler, who was raised in River Rouge, ordained in Canada and who said masses at several parishes in the Detroit and Flint areas in the 1960s and 1970s. The lawsuits name church officials in three states and Gumbleton as a defendant, saying there was a letter that suggested Gumbleton once conspired to conceal Sigler's predatory behavior.

Gumbleton said Sunday he did not handle dealings with Sigler, who is serving a 7-year Michigan prison sentence.

But Gumbleton said all victims "should certainly be listened to, apologized to and be compensated in whatever way was necessary and helpful," and that juries should decide that.

But McGrath said Gumbleton's statements ignore the archdiocese's efforts to help victims of abuse and pay for their counseling.

"I don't think it's fair to say that the church has somehow forgotten this issue or forsaken those who were tragically harmed, both physically and spiritually, by clerical sexual abuse," McGrath said. "From what I've seen, those who champion the 'nothing's been done, teach them a lesson' argument are, for the most part, attorneys who will benefit greatly themselves from the claims they are making."

Among St. Leo's parishioners, Gumbleton's stand drew praise.

Parishioner Nicola Motley, 33, of Detroit said she admires "everything about him."

"I knew he wouldn't do it for selfish reasons," she said about Gumbleton's disclosure. "Whatever he does, he does to help others."

Contact PATRICIA MONTEMURRI at 313-223-4538 or montemurri@freepress.com.