Lawsuit Alleges Diocese Covered up Priest Abuse
SNAP Holds News Conference in Support of John Doe

KCCI
January 18, 2006

http://www.kcci.com/news/6215684/detail.html

DES MOINES, Iowa -- A lawsuit claims the Des Moines diocese was involved in a conspiracy to conceal the wrong doing of a priest accused of sex abuse.

The complainant is only identified as John Doe. The lawsuit was filed at the Polk County Courthouse Tuesday.

The suit names Albert Wilwerding as the priest who sexually abused John Doe. John Doe grew up in Lacona. The abuse allegedly happened when the priest was at St. Mary's Parish in Rosemont.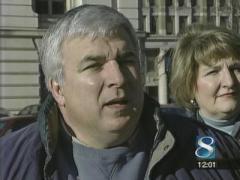 Wilwerding is now deceased.

The lawsuit also said the Des Moines Catholic diocese was negligent because it knew of Wilwerdings sexual misconduct and failed to warn parishes.

John Doe is asking for damages from the diocese.

Members of the group SNAP, the Survivors Network of those Abused by Priests, held a news conference downtown in support of John Doe.

Leaders said they know it's difficult for victims to come forward and talk about what happened.

They say it affects not just the victim but their family has well.

"Basically it's murder -- the murder of a soul and it has lifelong consequences. We hope this helps John Doe with his healing process," said Steve Thiesen, Iowa SNAP director.

The lawsuit also claims that the diocese was involved in a conspiracy because it deliberately concealed Wilwerding's sexual abuse history as it moved him from parish to parish, according to court documents.

The diocese is reviewing the lawsuit and doesn't have a specific response yet.

They said victims can call the Victim's Advocate Hot Line in the diocese at (515) 286 2031