Sex Abuse Survivors Support New Lawsuit

By Jared Strong
Des Moines Register
January 18, 2006

http://desmoinesregister.com/apps/pbcs.dll/article?AID=/20060118/LIFE05/60118009/1001/NEWS

Advocates for sex-abuse survivors held a news conference this morning in downtown Des Moines in support of a lawsuit filed Tuesday that named a deceased Des Moines Catholic priest.

A former altar boy at Holy Family Parish in Lacona now living in Alaska filed the suit Tuesday, alleging he was abused by the Rev. Albert Wilwerding, who died in Sept. 2004.

Wilwerding was one of three priests that Des Moines Bishop Joseph Charron recommended for defrocking because of credible sex abuse allegations, but Wilwerding died before the Vatican could act on that request.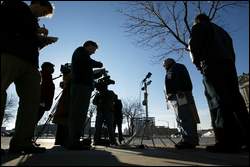 Sex abuse survivors and their supporters talk to reporters outside the Polk County courthouse about a lawsuit filed Tuesday that names a deceased priest from the Des Moines Diocese.
RODNEY WHITE/THE REGISTER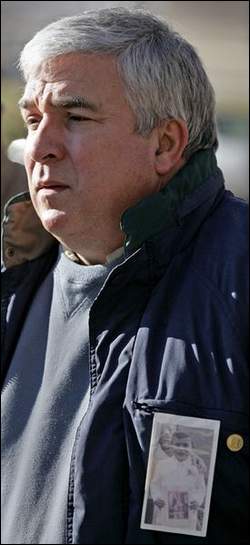 Steve Theisen, a founding member of the northeast Iowa chapter of the Survivors Network of those Abused by Priests (SNAP), says he was abused by his nun when he was nine years old.
RODNEY WHITE/THE REGISTER



Members of the Survivors Network of those Abused by Priests, or SNAP, said there have been far too few cases of sexual misconduct reported by the Des Moines Diocese, which comprises 31 parishes in central and southwest Iowa.

"The ballpark figure for each perpetrator is 100 victims," said Steve Theisen, a founding member of SNAP's northeast Iowa chapter. "What we've seen in Des Moines doesn't fit the norm."

Anne Marie Cox, a spokeswoman for the diocese, said this afternoon she couldn't comment on the pending lawsuit, but she said Wilwerding had been forbidden from serving as a priest in 1984 and died in a treatment facility in St. Louis.

"The church does encourage victims to come forward and file a claim," she said.

Cox said the diocese cares deeply about protecting its youth, and it uses criminal background checks, training and an internal complaint process to that end.

A Diocese of Des Moines report released last year said 19 victims filed complaints against nine priests from July 2003 to November 2004. All of the alleged abuse reported to the diocese had taken place at least 20 years ago.

Theisen, who said he was sexually abused by his 4th grade teacher, a Catholic nun, for about two years starting when he was 9 years old, said the first step to recovering from abuse is to file a complaint either with a diocese or through the legal system.

"At first you say, 'Hey, I can handle this.' Then you find out you can't," said Theisen, 53. "The last 40 years haven't been good, but I'm looking forward to the next 40."