Four More Abuse Suits Filed against Archdiocese

Associated Press, carried in CBS 4
January 19, 2006

http://cbs4denver.com/crime/local_story_019074009.html

(AP) DENVER Four more men filed lawsuits Wednesday against the Archdiocese of Denver and Harold Robert White, joining 22 others who have accused the priest of sexual abuse.

Randy Becker and three other men, referred to as John Doe in the lawsuits, allege they were abused as boys by White and that the archdiocese knew of the abuse and did nothing to stop it, other than transferring White to different parishes.

One of the John Does alleges the abuse happened in either 1959 or 1960 -- before White became a priest. The man claims White was still a seminarian at the time. White was ordained into the priesthood on June 4, 1960.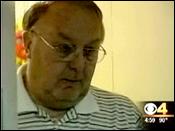 Harold R. White
CBS4




Douglas Tisdale, attorney for White, said he was unable to comment on the new lawsuits at this time.

All four men say in the lawsuits that the archdiocese is responsible for the abuse because it intentionally concealed White's behavior since the early 1960s and failed to prevent the abuse from happening again.

Charles Goldberg, attorney for the church, said these cases will likely be consolidated and that the church will seek to remove them from Denver District Court to federal court. The church wants the cases in federal court, because the issues involve the First Amendment.