Ex-Church Worker Gets 18 Years in Prison

By Brittney Booth
The Monitor
January 21, 2006

http://www.themonitor.com/SiteProcessor.cfm?Template=/GlobalTemplates/Details.cfm&StoryID=11189&Section=Local

EDINBURG — Former Trinity Worship Center music minister and convicted sex offender Robert Dale Franklin received 18 years in prison Friday after he pleaded guilty to violating his probation by possessing cocaine.

Franklin, 39, stood handcuffed and shackled in an orange county jail uniform in front of Judge Mario Ramirez in 332nd state District Court, the same judge who sentenced Franklin to 10 years probation in March 2004.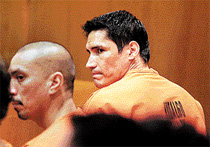 Robert Dale Franklin appeared Friday at the Hidalgo County Courthouse in state District Judge Mario Ramirezs 332nd court regarding a hearing to revoke Franklins 10-year probation.
Mike Roy



At that time, Franklin pleaded guilty to two counts of sexual assault of a minor and admitted to having a sexual relationship with a 14-year-old church member who had come to him for mentoring. He also acknowledged providing the boy with cocaine and marijuana. In exchange for pleading guilty to the two sexual assault charges, prosecutors agreed to drop 10 other felony counts.

Franklin served six months in county jail for the sexual assault charges and completed a 30-day drug treatment program.

As part of his probation, Franklin was also to serve 40 hours of community service, pay a $10,000 fine and wear an electronic monitor. He was released in September and then arrested Dec. 24 when a Texas Department of Public Safety trooper stopped him in McAllen and found three bags of cocaine in his pocket, according to Assistant District Attorney Monica Barron Auger, the court's prosecutor. Franklin had also violated other conditions of his parole, including failing to comply with his electronic monitoring, Auger said.

The judge could have sentenced Franklin to a maximum of 20 years in prison for violating his parole, but prosecutors offered 18 years in return for Franklin's guilty plea. He cannot appeal the sentence.

"We are very pleased with the plea," Auger said. In March, Auger had asked the judge to sentence Franklin to prison but Franklin's attorney argued for a probated sentence.

Franklin is now facing a third-degree felony for possession of a controlled substance, which could add up to 10 years in prison to his sentence. The teenage victim and his family are also suing Franklin and Trinity Worship Center, where he worked as music minister from 1999 to 2005.

In March, Franklin said he began using drugs in 2003, and his sexual relationship with the boy began in 2004 after the two began using drugs together. Franklin claimed the sexual acts were consensual. When the boy finally reported Franklin's abuse, another teenage boy assaulted the victim. The attack, which allegedly occurred at Franklin's request, was so severe the boy required several operations and his spleen was removed.

Though Franklin had no criminal record prior to 2005, the civil lawsuit and court records indicate there were other incidents involving Franklin and young churchgoers that were not prosecuted.

Franklin admitted an incident with a 17-year-old boy in Montana, according to a pre-sentencing investigation Franklin's parole officer conducted. Franklin also had a relationship with a teenage boy while working as a missionary in Romania in the early 1990s, the civil lawsuit states.

The McAllen victim's mother — who is not identified because it is The Monitor's policy not identify victims of sexual assault or their immediate family members — leads a non-profit corporation she founded called Be Not Afraid Inc., which helps victims of sexual abuse and their families find attorneys, therapists, medical services and other support.

The victim's mother has also has teamed up with another woman whose son claims abuse by Franklin to lobby state legislators to pass new laws prohibiting judges from giving first-time sex offenders like Franklin probation; they should get mandatory prison sentences from the moment of conviction, the mother says.

She could not be reached for comment on the latest developments Friday.

——

Brittney Booth covers courts and general assignments for The Monitor. You can reach her at (956) 683-4437.