Ex-Priest To Be Arraigned On Abuse Charges

CBS 2
January 23, 2006

http://cbs2.com/topstories/local_story_023082422.html

(AP) LOS ANGELES Ex-priest Michael Stephen Baker will be arraigned on child molestation charges today in Los Angeles.

Baker was spared child molestation charges in 2003 by a U.S. Supreme Court ruling that disallowed retroactive prosecution of decades-old sex crimes involving children.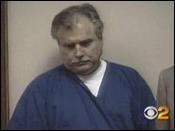 CBS




But he was arrested on fresh molestation charges Thursday at Los Angeles International Airport as he returned from Thailand.

Police say Baker is suspected of molesting a boy for 12 years beginning in 1984.

His arraignment is scheduled for the same courthouse where the molestation trial of another retired priest, Michael Wempe, is to begin today.