Wempe Priest Abuse Trial Set to Begin Today

CBS 2
January 23, 2006

http://cbs2.com/topstories/local_story_023081944.html

(AP) LOS ANGELES Opening statements are set for this morning in the Los Angeles molestation trial of retired priest Michael Wempe.

The trial begins after an entire week of probing jury selection complicated by the emotional issues involved in the case.

Many prospective jurors were dismissed when they said they could not put aside their feelings of revulsion about child molestation.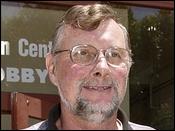 AP




But several deeply religious people who believe that priests should be held to a high moral standard as spiritual leaders remain on the panel.

Most of the six-man, six-woman jury say they find the issue of clergy child abuse disturbing but promised to be fair in judging Wempe.

The 66-year-old has pleaded innocent to five counts of lewd conduct and molestation of a boy between 1990 and 1995.