Man Guilty of Abuse Priest Murder
A US Prison Inmate Has Been Convicted of Murdering a Former Priest at the Heart of a Sex Abuse Scandal in Boston

BBC News [Worcester MA]
January 25, 2006

http://news.bbc.co.uk/2/hi/americas/4648952.stm

Joseph Druce killed defrocked clergyman John Geoghan in August 2003 while they were held in a Massachusetts prison.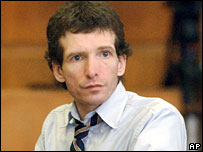 Druce claimed he killed the priest to save other children from abuse



Druce, 40 and already serving life for another murder, had admitted strangling Geoghan, saying he wanted to avenge children who had been sexually abused.

The jury in Massachusetts rejected his defence of insanity, finding him guilty of first-degree murder.

Geoghan had been sentenced to six years for molesting a 10-year-old boy and was accused of molesting nearly 150 boys over 30 years.

His case brought to light a child sexual abuse scandal in Boston involving hundreds of children and a number of priests.

'Calculating killer'

The court heard how Druce had admitted following Geoghan into his protective custody cell at Souza-Baronowski Correctional Institute and jamming the door shut.

He then beat and strangled the 68-year-old before guards realised what was happening and dragged him out. Geoghan was taken to hospital but died shortly afterwards.

Arguing an insanity defence, Druce's lawyers said he had been sexually abused as a child and was under the delusion that he was protecting other children by killing Geoghan.

"I had seen myself as the designated individual who had to put a stop to the paedophilia in the church," Druce told the court.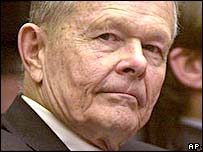 John Geoghan was believed to have attacked nearly 150 children



But prosecutors described him as a conniving killer who planned the murder with the aim of boosting his reputation among fellow inmates.

"He was not a mentally ill person, raging out of control," prosecutor Lawrence Murphy said. "He's a calculating killer who waited for his opportunity."

Druce, already jailed for life for the 1989 murder of a gay man, now faces another life sentence without possibility of parole.