Druce Guilty in Slaying of Pedophile Priest

By Denise Lavoie
Associated Press, carried in Boston.com
January 25, 2006

http://www.boston.com/news/local/massachusetts/articles/2006/01/25/druce_guilty_in_slaying_of_pedophile_priest/?page=2

WORCESTER, Mass. --A jury rejected an insanity defense and found prison inmate Joseph Druce guilty of first-degree murder Wednesday in the strangulation of pedophile priest John Geoghan, a central figure in Boston's clergy sex abuse scandal.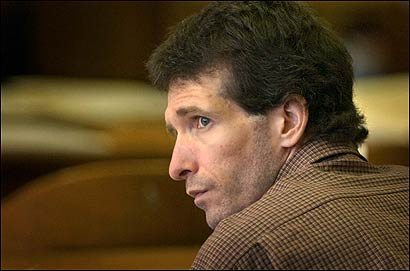 Joseph Druce was found guilty of first-degree murder Jan. 25 in the strangulation of pedophile priest John Geoghan. In this Jan. 12 file photo, Druce is seen watching the second day of proceedings during his trial. (AP Photo)



After the verdict was read, Druce looked at the jury and said, "It's all right. Good job." As the jury was filing out of the courtroom, he said: "No hard feelings. Have a good night."

Judge Francis Fecteau later imposed a mandatory sentence of life without parole.

"This state does not have capital punishment, and if it did ... you would not be the person to carry it out," Fecteau told Druce.

Druce responded, "I was chosen, though," before Fecteau told him not to speak.

Druce is already serving a life sentence for a different murder. Fecteau didn't address a request by Druce's lawyer, John LaChance, to allow Druce to serve his sentence out of state. LaChance argued Druce was in danger because of testimony in which Druce criticized his treatment in the prison system. Other testimony indicated Druce was a jailhouse informant.

Druce was allowed to speak before the sentencing, and gave a rambling speech in which he said he killed Geoghan to stop him from molesting children. Druce also said he accepted his punishment.

"Hold the pedophiles accountable, as well as myself," he said.

Druce admitted sneaking into Geoghan's cell in August 2003. He jammed the door shut with a book, then beat and strangled the 68-year-old Geoghan before the guards could stop him.

The defense had argued that Druce was mentally ill and under the delusion that God had chosen him to kill Geoghan and send a message to pedophiles around the world.

Afterward the verdict LaChance acknowledged the long odds of succeeding with an insanity defense.

"With the killing of a person, and when the defendant admits he did it, I think juries are very reluctant to acquit on any basis," he said.

Prosecutor Lawrence Murphy told jurors that Druce was a conniving killer who planned the murder for weeks so he could be a "big shot" in prison.

Druce told investigators he spent two hours stretching socks into the rope he used to strangle Geoghan, and he made friendly visits to Geoghan's cell so the defrocked priest wouldn't suspect anything when he came to kill him, the prosecutor said.

"He was not a mentally ill person, raging out of control," Murphy said in his closing argument. "He's a calculating individual who waited for his opportunity."

The jury of five women and seven men deliberated for about seven hours over two days before reaching the guilty verdict early Wednesday afternoon. There will be an automatic appeal.

Druce's mother and grandmother were in the courtroom, but they left without commenting to reporters

Druce, 40, is already serving a life sentence for killing a man who allegedly made a sexual pass at him after picking Druce up hitchhiking. He unsuccessfully used an insanity defense during that 1989 trial.

When Druce took the witness stand, he described a troubled childhood in which his father beat him and his mother. He said he was physically and sexually abused as a preteen at a residential school for troubled children.

Jury foreman Thomas Wiegand said the jury felt sympathy for Druce because of the failings of the system that treated him.

"Everyone agreed he has a mental illness. It's the degree that is always the question," said Wiegand, a retired administrator at the College of the Holy Cross.

Druce said he was driven to kill after hearing Geoghan advise other inmates on how to molest children and say he planned to move to South America after prison so he could resume working with children.

"I had seen myself as the designated individual who had to put a stop to the pedophilia in the church," Druce said.

At the time of his death, Geoghan was in prison for fondling a 10-year-old boy, but he was accused in lawsuits of sexually abusing some 150 children.

His case helped spark the clergy sex abuse scandal worldwide after church personnel records released under court order revealed that the Boston Archdiocese transferred Geoghan from parish to parish even after allegations of abuse surfaced.

Geoghan's slaying sparked sharp criticism of a prison system that allowed a high-profile pedophile priest like Geoghan to be housed in the same protective custody unit as Druce, a convicted killer.

After Geoghan's death, panels investigating the slaying found serious failures in the inmate classification system, disciplinary procedures and internal investigative practices of the Department of Correction. The investigations led to changes in the inmate grievance system, employee disciplinary process and inmate classifications.

Still, Druce repeatedly claimed during the trial that he was being harassed and abused by prison guards. He arrived in court Wednesday sporting a black eye and welt on his face that his lawyer said was the result of a jailhouse beating on Tuesday night.

The Department of Correction disputed the claim, saying prison surveillance video shows no evidence of such a beating. In a statement, it noted, "Druce has a long history (of) self-injurious behavior."