Conte Rules out Re-Election
30-Year Run to End

By Milton J. Valencia
Telegram & Gazette
January 25, 2006

http://www.telegram.com/apps/pbcs.dll/article?AID=/20060125/NEWS/601250439/1116/NEWSLETTERS08

WORCESTER— District Attorney John J. Conte announced yesterday the end of his 30-year run as the county's top prosecutor, sending ripples through a legal community that assumed he would seek another term.

Mr. Conte gave a quick speech to his staff at 3 p.m. yesterday, before exiting out a back door. Many called it an emotional speech punctuated by applause.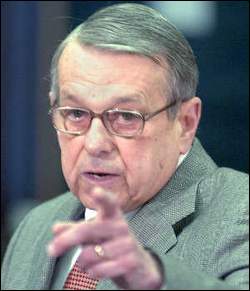 Mr. Conte



The announcement brings closure for a 75-year-old man who spent more than half of his life in public service. He served 14 years in the state Senate, before then-Gov. Michael S. Dukakis appointed him district attorney in 1976. He won the following election and has dominated challengers since.

"Whether in the state Senate or the district attorney's office, I have never forgotten that politics at its core is about helping people," Mr. Conte said in a prepared statement.

"My primary goal has always been to administer the law with benevolence, compassion and mercy," he said.

Mr. Conte's decision shocked supporters and opponents. Throughout the day, names of prospective challengers were discussed. Yet many called it Mr. Conte's day.

"Agree with him or disagree with him, you've got to recognize he's been in office for 40 years and has done some good things," said Joseph D. Early Jr., son of a former congressman and the only person to publicly announce a run for the post.

Mr. Conte leaves a legacy, having pioneered the use of modern technology when he became the first prosecutor in Massachusetts to gain a conviction through DNA evidence.

"He's been a tremendous district attorney, a tremendous administrator for the citizens of the middle district who probably don't know half of what he's done," said Assistant District Attorney Thomas E. Landry, who handled the DNA case in 1991.

Mr. Conte also was known for his political power. Many credited him with securing the long-awaited funding for the new courthouse downtown.

"History will show the two decades of bond campaigning for this courthouse have always had John Conte's fingerprints on it, and this should be the crown achievement of his career," said state Rep. Vincent A. Pedone, D-Worcester.

Still, many also said the district attorney's time has come and gone, that his legacy is fading in a generational change that has seen the politicians of his generation retire or lose office.

Former Sheriff John M. "Mike" Flynn was trounced in an election a year ago after decades in the post. In 2002, former Clerk of Courts Loring P. "Red" Lamoureaux stepped down, a year into his six-year term.

"I think it would have been a very long and difficult campaign trail," said Mr. Pedone, who said he was happy to hear Mr. Conte will not seek re-election. "I don't think he needed to prove anything else."

William J. Eddy, chairman of the Worcester Democratic City Committee, congratulated Mr. Conte on his years of office.

"There's a time to come and a time to go in public service," Mr. Eddy said. "I respect the work John Conte has done, but this is the right time and the right decision."

Mr. Conte had seen mounting challenges to a possible seventh term in office, from people who wanted his seat to others claiming it was time for him to retire. His supporters have cited a 90 percent conviction rate, but opponents point out Mr. Conte is quick to reduce a charge for a plea agreement, and that he has often shied away from difficult cases.

A list of unsolved cases has tainted his legacy and fueled his opponents, some of whom established an anti-Conte Web site dedicated to publicizing the controversies of his career.

Most recently, Mr. Conte was embroiled in a statewide political storm when it was revealed he had received a phone call from Attorney General Thomas F. Reilly concerning autopsy records of two Southboro teenagers who died after a car wreck. Mr. Reilly's phone call was seen as an attempt to cover up evidence that the girls, from a family that contributed to Mr. Reilly's campaign, had been drinking that night. A third girl was seriously injured. No charges were ever filed in the case.

Mr. Conte also has been criticized for his handling of the Catholic Diocese of Worcester sexual abuse crisis, particularly when he donated money to the diocesan Bishop's Fund while he was investigating the diocese's priests for abuse.

He also came under fire for his handling of a Fitchburg case that saw a man shot dead by a state trooper. The man was charged while he was still brain dead, and he died a day later, though Mr. Conte would say in interviews that the matter was still under investigation. He has since sought a judicial inquest in the case.

There's also a list of high-profile cases that were never solved, including the disappearance of a baby in foster car a decade ago and the cases of prostitutes who disappeared and whose bodies were later found in woods.

Perhaps the most notorious case is that of Molly A. Bish, a 16-year-old who disappeared from a lifeguard post at a pond in Warren. Her remains were discovered years later, and her killer has never been found.

John Bish, Molly's father, called Mr. Conte a compassionate, principled man who told him it was a mission to find his daughter's killer, and who showed him a sense of caring he believes not many have had the opportunity to see.

"We know of his commitment to bringing Molly home," Mr. Bish said. "We always felt he was there for us, standing there for us."

Even those on the other side of the courtroom from Mr. Conte have still called him a principled man who brought professionalism to his office.

"He respected and valued a defendant's right to a fair trial," said Michael Hussey, head of the Worcester public defender's office.

Mr. Conte's announcement creates an open spot at the county's top law enforcement post. Mr. Early has a clear start as a Democratic candidate, raising more than $150,000 in campaign funds.

Yesterday's announcement drew new faces into the mix. Francis A. Ford, the clerk of courts and magistrate in Worcester Superior Court, is rumored to be a possibility, but he would only say yesterday that he still has another year left in his term.

State Rep. James B. Leary, D-Worcester, is also a possibility, though he would only say yesterday that he is strongly considering a run.

Timothy P. Murray was long considered a possibility, but said yesterday he has set his targets on the lieutenant governor's post.

Richard Nangle and Shaun Sutner of the Telegram & Gazette staff contributed to this report.