Auxiliary Bishop Thomas Gumbleton, Detroit's Pacifist Bishop, Resigns
Pope to Announce the Move Today

By David Crumm and Patricia Montemurri
Telegram & Gazette
January 26, 2006

http://www.freep.com/apps/pbcs.dll/article?AID=/20060126/NEWS01/601260472

Today at the Vatican, Pope Benedict XVI is expected to announce the resignation of one of the world's most controversial Catholic leaders, Detroit Auxiliary Bishop Thomas Gumbleton.

The pacifist bishop, who has dropped into many of the world's political hot spots in his crusades for social justice, turns 76 today. His resignation as an assistant to Detroit Cardinal Adam Maida was called for under church law when he reached the age of 75.

But his retirement as an official in the Archdiocese of Detroit is not likely to change much in the crusading bishop's life. He began cutting back on his administrative responsibilities in the early 1980s and even moved his office out of archdiocesan headquarters in Detroit a few years after the 1990 arrival of Cardinal Maida.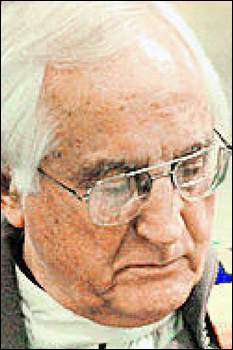 Auxiliary Bishop Thomas Gumbleton




"If anything, this resignation as an auxiliary to Cardinal Maida will make him even freer than he was before to travel, to speak and to write," the Rev. Thomas Reese, a California-based scholar who is an expert on church structure, said Wednesday.

The major question that emerged Wednesday evening was whether Maida will allow Gumbleton to continue as pastor of St. Leo's Catholic Church on Detroit's west side. The parish has become a haven for peace activists. Around the world, Gumbleton's weekly homilies are read on a Web site dubbed the Peace Pulpit.

In a statement late Wednesday to members of St. Leo's parish, Gumbleton indicated that his resignation is not related to his recent revelation that he was a victim of sexual abuse as a teenager or his highly controversial call for lawmakers to open up past cases of priestly abuse to civil action.

"I will continue to teach, preach, celebrate sacraments and carry on my work for justice and peace wherever I am called to do so," Gumbleton said in an open letter to parishioners. "This of course includes as a priority my ministry at St. Leo's."

However, archdiocesan spokesman Ned McGrath would not confirm that Maida will keep Gumbleton at St. Leo's, an appointment he has held since 1983.

"It's up to the cardinal now," McGrath said. "I don't know about staying pastor at St. Leo's. They'll have to have discussions about that."

Maida, who was in Marquette on Wednesday for the installation of a new bishop for the Upper Peninsula, could not be reached for comment. But McGrath said the cardinal, who staunchly opposes opening up past abuse cases to legal action, is likely to raise major questions about his former auxiliary's political activism.

Gumbleton is the longest-serving active Catholic bishop in the United States, elevated by Pope Paul VI in 1968 as the youngest American priest ever conferred the title.

Contact DAVID CRUMM at 313-223-4526 or dcrumm@freepress.com or PATRICIA MONTEMURRI at 313-223-4538 or pmontemurri@freepress.com