Former Priest Charged with Child Sexual Abuse
Rev. Neil Doherty Arrested Thursday Charged with Sex Battery on a Child under 12 First Such Charge in Miami Diocese

CBS 4
January 27, 2006

http://cbs4.com/topstories/local_story_027080129.html

(CBS4/MIAMI HERALD) FT. LAUDERDALE A former South Florida priest accused of sexually abusing a young boy nearly a decade ago was denied bond at a hearing this morning.

The Rev. Neil Doherty, 62, is charged with two counts of sexual battery on a child, two counts of indecent assault and one count of lewd or lascivious molestation. There is no bond on the sexual battery charges.

Jeffrey Herman, the Miami-based attorney for the alleged victim, is expected to hold a press conference some time today. Herman represents five men who claim Doherty molested them while he was a priest.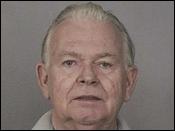 Rev. Neil Doherty
CBS4 News



The Broward Sheriff's Office arrested Doherty on Thursday. He had served parishes in South Florida for three decades.

Doherty is the first Catholic priest in the Archdiocese of Miami to be charged with sexual battery on a child younger than 12.

According to our news partners at The Herald, alleged victims of Doherty have been coming forward ever since the Catholic Church's sex abuse scandal erupted in Boston in 2002.

Broward authorities began investigating the latest case after the victim filed a $25 million lawsuit against the Archdiocese of Miami, accusing it of allowing the priest to serve at a Margate parish despite having settled an earlier lawsuit involving previous alleged child molestation by Doherty.

While at the Margate parish, the priest allegedly drugged and raped the latest victim, now 19, over a five-year period beginning in 1996.

"The family is relieved that this man is off the streets and feels that the community is finally safe from him after three decades of terror," said Jeffrey Herman, the alleged victim's attorney.

Only one South Florida Catholic priest, the Rev. Trevor Smith, who worked at a North Miami nursing home, has been charged and convicted of sexually assaulting a minor.

Late Thursday, the Archdiocese of Miami issued a statement on Doherty's arrest:

"Anytime an accusation of sexual misconduct becomes known, it saddens the Catholic Church, as well as the members of its community, for this is a most serious sin and offense. Such misconduct is contrary to Catholic morality and the celibate commitment of priests," spokeswoman Mary Ross Agosta wrote.

Doherty, whose three decades of service to Broward and Miami-Dade parishes included serving as director of vocations for the archdiocese, was placed on administrative leave in April 2002. He is retired and has no ministerial assignments.

"The Archdiocese of Miami is committed to full cooperation with the investigative authorities in this matter," Agosta wrote, adding: "The Archdiocese of Miami asks for prayers for this victim and anyone who has been a victim of sexual abuse."