Judge Refuses to Close Hearing of Priest Accused of Sexual Assault

By Sara Reed SaraReed@coloradoan.com
The Coloradoan [Fort Collins CO]
January 28, 2006

http://www.coloradoan.com/apps/pbcs.dll/article?AID=/20060128/NEWS01/601280302/1002

The public will be allowed to attend an upcoming hearing in the case of a former Fort Collins Catholic priest accused of sexually assaulting a child, a judge ruled Friday.

District Court Judge Jolene Blair rejected a motion by lawyers for Timothy Evans, 43, who argued that allowing the public and media into a pretrial hearing could violate his right to a fair trial. She didn't comment on her reasoning.

The motion to close the preliminary hearing was opposed by the Fort Collins Coloradoan and The Denver Post, who argued that barring the public from the pretrial hearing would be an extreme step not supported by evidence. Lawyers for the two papers argued that the defense had other less drastic means to protect Evans' fair-trial rights.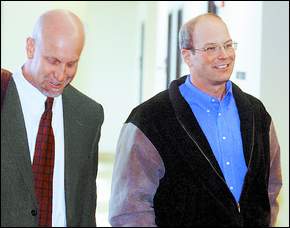 V. Richard Haro/The Coloradoan
Timothy Evans, right, and his lawyer, Erik Fischer, walk out of a preliminary court hearing Friday at the Larimer County Justice Center




David Mestas, one of Evans' defense attorneys, said he was not surprised by Blair's ruling.

"It's a pretty drastic move for a judge to make," he said, adding that he and his co-counsel, Erik Fischer, worry that the public has been influenced by news regarding the Catholic Church's sexual abuse scandal.

Coloradoan Executive Editor Robert Moore said the public benefits from an open criminal justice system.

"We are grateful for Judge Blair's decision, which upholds the important value that the public has a right to transparency in the judicial process," Moore said.

"The public should be concerned about the increasing willingness of Larimer County judges to limit access to the court system by sealing routine records in criminal cases, including records in this case," Moore said. "We hope Judge Blair's latest decision will be a harbinger of more openness in our local judicial system."
Deputy District Attorney Emily Humphrey, citing a court-imposed gag order, declined comment on why prosecutors didn't respond to the defense request to close the pretrial hearing.

Evans' pretrial hearing was scheduled for Friday, but was postponed until March 7 at the request of both prosecutors and defense lawyers. Humphrey told the judge the postponement was needed in light of recently received information and to discuss the possibility of a plea agreement.

The new information brought into question whether one of the incidents happened before or after the alleged victim turned 18, Mestas said Friday after the hearing. If it occurred before, the charge would remain a felony; if it occurred after, it would be reduced to a misdemeanor.

Evans was arrested in November on two counts of sexual assault on a child by a person in position of trust, one count of sexual assault on a child — pattern of abuse, and one count of contributing to the delinquency of a minor.

The charges stem from incidents alleged to have occurred between Sept. 1, 1998, and May 18, 1999. Evans served at St. Elizabeth Ann Seton, 5450 S. Lemay Ave., from 1998 to 2002.

He was removed from the priesthood in 2003 before criminal charges were filed.

Few details of the alleged crimes are available because Blair previously blocked public release of the affidavits used to obtain arrest and search warrants against Evans until after his preliminary hearing, in addition to the court-imposed gag order.

Blair on Friday said she needed to clarify her earlier ruling to seal records related to the case. She said the ruling was meant only to protect the arrest and search warrants but not other records in the file, such as motions.

She did not explain why she needed to clarify her ruling, but one of Evans' attorneys had contacted a media attorney asking how the Coloradoan learned of the motion to close the preliminary hearing to the public, according to Moore. The defense lawyer said he thought the case file was supposed to be sealed.

Fischer told the judge he might want to request that some future motions remain under seal, meaning the public could not immediately know of them. Blair said she would review such requests to determine whether the motions would be sealed.

Paul McMasters, an ombudsman for the Freedom Forum, a free speech and free press advocacy foundation, said courts nationwide are joining other government agencies in "reflexive secrecy."

"I am, if possible, even more concerned today (than previously) that judges who close courtrooms and seal records, except in the narrowest of circumstances, are damaging the most important component of any system of justice, and that is its public nature," McMasters said.