Defrocked N.J. Priest in Center of Community Storm
Hanley Questioned by Men He Admittedly Abused As Boys

By Mary Calvi
WCBS
January 30, 2006

http://wcbstv.com/topstories/local_story_030063636.html [includes link to streaming video of the encounter]

(CBS) PATERSON, N.J. What began as a quiet picket turned into an angry confrontation on Sunday in Paterson.

Victims who say they were sexually abused by a priest were protesting the fact that their abuser had moved into the neighborhood.

The last thing they expected happened.

The admitted abuser confronted them.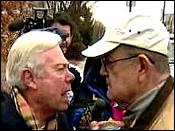 CBS

Now a defrocked priest, James Hanley admitted to the sexual abuse of more than a dozen boys in the Paterson Roman Catholic Diocese from 1968 to 1982.
Then on Sunday, in front of news cameras from all over the area, Hanley stepped back into their lives, breaking up the protest. Some of those boys, who are now adults, and their families confronted the man in a bizarre scene that looked like it belonged in the movie of the week.
The community members had gathered to hand out leaflets to other residents along McBride Avenue to warn them of the potential dangers involved with living near Hanley.
Hanley was never convicted of his crimes due to the statute of limitations. He had been in psychiatric care in Maryland, but recently returned to Paterson not as priest but as neighbor.
Sunday's impromptu press conference quickly escalated into a shouting match. No punches were thrown, but a lot of people got a chance to say some things they clearly had on their chests for some time.
While speaking with a group of reporters, Hanley was interrupted by Lou Serrano of Mendham. Hanley quickly marched over and got nose to nose with the man, who had to be restrained.
"Look at me in the eye this time, look at me in the eye," Hanley yelled.
To which Serrano responded, "I can't say the same to you Jim, that it's nice to see you. Jim, you are sick, you're sick. You are a rapist. You raped my son when he was 9 years old!
"You're sick. You're a sodomist and rapist of children. And people in this neighborhood should know about you because you are a predator, a confessed predator."
Later, Hanley was asked if he abused another man in the crowd, Ray Skettini.
"Ray Skettini. Yes I did. And Ray knows I'm god---- sorry for what I did to him," Hanley said.
Skettini later replied, "Them throwing you out of the priesthood doesn't do any more good. It only does more harm because who's watching you now?"
Prior to walking away from the crowd and the reporters, Hanley was asked why he allegedly did what he did.
"I'm an alcoholic. I'm a manic-depressive. I suffer from diseases. I'm a psychotic, and a psychotic does strange things sometimes, you know," he said.