Cardinal to Meet with Concerned Parishioners

By Kristyn Hartman
CBS 2
January 30, 2006

http://cbs2chicago.com/topstories/local_story_030073240.html

(CBS) CHICAGO Cardinal Francis George is set to meet tonight with parishioners from St. Agatha Catholic Church, the site of controversy since its priest was accused of sexual abuse.

The 7 p.m. meeting will be closed to media, CBS 2's Kristyn Hartman reports. Parishioners will have the opportunity to talk to George about their concerns.

What George needs is courage, critics say.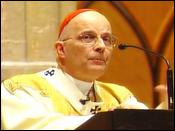 CBS 2




"We need Cardinal George to step up up to the plate and to take the courage to remove predators when he thinks there is a possibility that there could be true allegations," said Barbara Blaine, of Survivors' Network of those Abused by Priests, which handed out worksheets Sunday in protest of the accused priest.

The West side church's Rev. Daniel McCormack was arrested last week and charged with aggravated criminal sexual abuse of two young boys at St. Agatha Catholic Church. A third later made allegations against him.

Evidence later surfaced about an additional case of abuse of a 4th grader in 2000 at Holy Family Parish.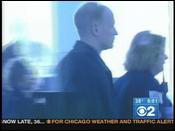 CBS




Cardinal George said Saturday during a news conference that when allegations first arose against a priest who was later charged with abusing children, there was insufficient evidence to take action against him, but he concedes that mistakes were made in the handling of the case.

"Had I known then what I know now, I think I would have tried to find some way to take him out," George said. "But the way isn't clear in the code. In order to take somebody out permanently or even to take him out for the purpose of investigation, you have to be sure that you're not violating the law."

Officials say the mother of one of the boys at St. Agatha, now 11, called police late last summer to report that McCormack molested her son twice in December 2003.

Prosecutors decided they did not have enough evidence and did not charge McCormack back then.

But Illinois Appellate Justice Anne Burke, former head of the Catholic Church's lay review board on priest sex abuse, is among those who think McCormack should have been removed from St. Agatha church anyway. She told the Chicago Sun-Times it's "mind-blowing" the archdiocese did not err on the side of children and take McCormack out of the parish.

Archdiocese spokeswoman Colleen Dolan said back in August, there was only one child making an accusation and that the boy's family would not talk to church officials. She said the mother was only talking to police and prosecutors.

Also Saturday, George said the Archdiocese had acted as aggressively as possible in the case, but he did not believe the process in place to take action against priests suspected of sexual abuse had worked as well as it should have.

"I'm very saddened by this whole thing, and by the fact that we I think we failed in certain instances to respond adequately," George said.

Under the rules, an alleged victim or his or her guardian must provide the evidence against a priest, George said. After that, officials in the Archdiocese question the priest, and the final decision is reached by officials in Rome, he said.

"We can't take him permanently out until Rome says OK," George said. "But that process didn't take place at all in terms of the Rome allegation, and the allegation was never made to us."

"We restricted (McCormack) as much as we could while keeping him in place" by restricting his access to children, George said. "That, I think, was consistent with what we had received – there was not enough information to conclude that he had done this."

George said the Archdiocese was hindered because the state had information against McCormack and the Archdiocese did not. The Archdiocese was told that a victim interview could not be conducted without a subpoena and thus could not get the necessary evidence following the first allegation, George said.

"Part of the problem was that we couldn't get information from (prosecutors), not that they couldn't get information from us, and that's the first time that's happened," George said.

"I've learned a lot more about Fr. McCormack" as a result of the experience, George said. "I've been here for eight years and he was a priest whose reputation was sterling…. Had we had more conversation with the school community, perhaps we would have found out that there were others who didn't share that high opinion."

He added: "It's like walking on quicksand a little bit. You think you have things basically put together so that everything can be faced and processed, and all of a sudden you don't. Those are all sobering learnings, and I hope that as we go through this and analyze it, and we are, that the commitment to protect children will be stronger than ever -- but to do that within the context of the code. We have to do it that way."

When asked if the Archdiocese was wrong in its handling of the McCormack investigation, George said: "It should have gone to the civil authorities at that time. Whoever should have seen to that, I'm not making a statement about that at this time."

When asked about the possibility that in the 2000 case, the principal or others at Holy Family parish might have violated state law by not reporting the alleged abuse to the Illinois Department of Children and Family Services, George said, "Those laws were somewhat new (at the time), and I'm not sure that everybody was aware of their responsibilities."

On Friday, CBS 2 reported that the Cook County state's attorney's office had received contact from a former classmate of McCormack's at Niles College, a pipeline for candidates bound for the priesthood at the seminary in Mundelein.

That former classmate claims that when both he and McCormack were students at Niles College in 1988, he awoke to find his pants pulled down and McCormack standing over him.

When asked about the Niles College incident and whether the Archdiocese was notified about it, George said the records at the college were kept at St. Joseph Seminary, the successor institution to the since-closed college.

"I've been told, although I haven't talked to the director there myself, that he looked at the student record and there was nothing in there" about the abuse, George said.

As part of the conditions of McCormack's bond, he was forbidden from having contact with the victims and their families and anyone under the age of 18. If convicted, McCormack could face up to seven years in prison, Cook County state's attorney's office spokesman John Gorman said last week.