Ex-Priest Apologizes

By Michael Fisher
The Press-Enterprise [California]
January 31, 2006

http://www.pe.com/localnews/sanbernardino/stories/PE_News_Local_P_priest31.de2ae23.html

Edward Anthony Rodrigue, a former Inland priest and twice-convicted child molester, apologized Monday to the children he abused during his nearly 20 years as a Catholic cleric. "To those I have been involved with, I am genuinely sorry for their problems, for those I've known and the unknown," Rodrigue, 69, said standing outside his room at a downtown San Bernardino motel, where he has lived since being paroled from prison on Wednesday. "It upsets me that there are a few (accusers) that I don't know."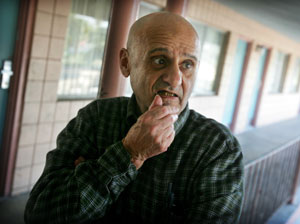 "To those I have been involved with, I am genuinely sorry for their problems, for those I've known and the unknown," says Edward Anthony Rodrigue, standing outside his room at a downtown San Bernardino motel. A twice-convicted child molester, Rodrigue has lived at the motel since being paroled from prison on Wednesday



Rodrigue has spent the last 8½ years behind bars, after he pleaded no contest to molesting an 11-year-old, developmentally disabled boy in Highland. Rodrigue had been sentenced to 10 years in prison.

Rodrigue told detectives he molested five or six boys annually while a priest, according to a copy of a 1997 San Bernardino County sheriff's report.

Rodrigue rubbed a hand across his craggy face Monday, as he discussed his five days of freedom at the Sahara/Paradise Motel, a faded pink building at Fifth and H streets.

"It's rough, with all the publicity," he said.

At least 19 men have accused Rodrigue of molesting them as altar boys between 1967 and 1979 at churches in Ontario, Barstow, Calexico, El Centro, Encinitas and elsewhere, according to lawsuits targeting the Catholic dioceses of San Diego and San Bernardino.

The men accuse diocesan leaders of failing to protect them from Rodrigue and of shuffling the priest among parishes and psychiatric treatment centers, even after Rodrigue pleaded no contest in 1979 to misdemeanor child-molestation charges in Ontario.

Rodrigue declined to discuss what diocesan leaders knew about his involvement with children. But he said he would testify truthfully if the lawsuits come to trial.

"Some of them are very justifiable," Rodrigue said.

In a sworn statement filed in federal court last year, Rodrigue said he met in 1976 with San Diego's Bishop Leo Maher, now deceased, to discuss sexual-abuse complaints against Rodrigue. The priest was briefly assigned to Our Lady of Soledad Church in Coachella before being sent to a Massachusetts treatment center.

Ordained in 1962, Rodrigue also worked in Loma Linda and other Catholic churches in San Diego and Imperial counties until 1981, the last year that he was assigned to a church. He left the priesthood in 1992.

The Rev. Howard Lincoln, spokesman for the San Bernardino Diocese, said diocesan officials have not spoken with Rodrigue and have no plans to contact him.

On Monday, Rodrigue expressed regret for his involvement with Jacob and Patrick Olivas. The brothers are suing the Diocese of San Diego, claiming Rodrigue molested them in the late 1970s, when they attended St. George Catholic Church in Ontario. The San Diego Diocese managed Inland parishes until 1978.

"I want to thank Patrick Olivas for all his good work, and I hope he forgives me," Rodrigue said.

The comment shocked Patrick Olivas, who recently formed the first Inland chapter of the Survivors Network of Those Abused by Priests, a national self-help group.

"I haven't even thought about forgiving him," said Olivas, 40. "Maybe that's something that will happen down the road."

Rodrigue said he registered as a sex offender Monday morning with the San Bernardino Police Department.

Soon after, investigators with the San Bernardino city attorney's office were going door-to-door at the motel and in the surrounding neighborhood, distributing English- and Spanish-language fliers that warned residents and businesses that the registered sex offender was living at the motel. The fliers included Rodrigue's picture.

"From our standpoint, there is no place in the city we want him," said City Attorney Jim Penman, who was at the motel Monday. "There are children living in this motel.... As far as I'm concerned, they ought to keep him in prison."

Penman, a mayoral candidate, said his office has distributed such notices on several occasions when a high-risk sex offender is paroled to the city. Most moved out of the city within a few days, he said.

John Ko, the desk clerk at the motel, said he has had no complaints about Rodrigue. Several people staying at the hotel said they were not worried by Rodrigue.

Rodrigue said he has no plans other than to start therapy.

"One day at a time, I'll face it as it comes," said Rodrigue, who described himself as a practicing Catholic who attended Mass in prison. "I have to work out certain issues, very important issues. The issues are with me, not with anybody else."

Rodrigue's brother, Tom, has said he worries that his brother will abuse again. But he noted that parole agents intend to fit the former priest with an ankle bracelet equipped with a GPS device to track his movements.