SNAP Reacts to Covington Diocese Settlement

By Lynn Giroud
Associated Press, carried in WCPO [Kentucky]
February 1, 2006

http://www.wcpo.com/news/2006/local/01/31/covington_folo.html

It is a landmark case. A class-action lawsuit against the Diocese of Covington results in an $85 million settlement.

That settlement was approved Tuesday by the courts, clearing the way for hundreds of victims to be compensated for the abuse they suffered at the hands of priests.

More than 350 people are taking part in this class action settlement, all claiming they were sexually abused by priests in the Covington Diocese.

This was a day they have waited for a long, long time.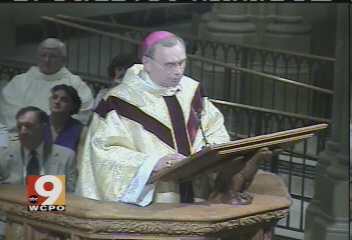 Bishop Roger Foys, of the Diocese of Covington (WCPO/WCPO.com). Photographed by: 9News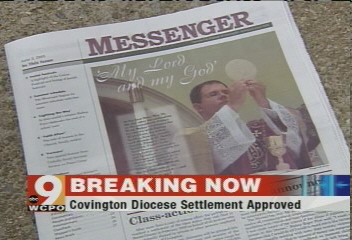 Local Catholic newspaper (WCPO/WCPO.com). Photographed by: 9News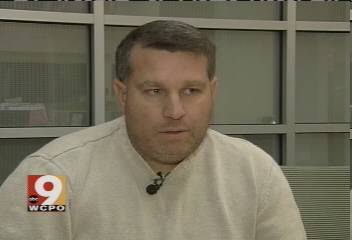 Dan Frondorf, of SNAP (WCPO/WCPO.com). Photographed by: 9News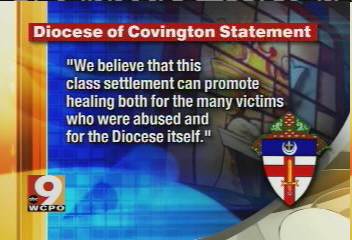 Diocesan Statement (WCPO/WCPO.com). Photographed by: 9News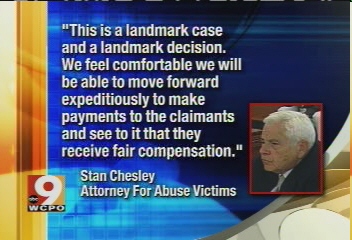 Attorney's Statement (WCPO/WCPO.com). Photographed by: 9News


"Bishop Foys is to be commended," said Dan Frondorf.

Frondorf is a survivor of priest sex abuse and active with a nationwide organization called SNAP: Survivors Network of Those Abused By Priests.

He says the $85 million settlement, one of the largest sex abuse payouts in the country, serves as a model for other dioceses.

"It sets an example for other dioceses across the country for how to respond pastorally to sex abuse victims," said Frondorf.

361 people came forward claiming they were abused by priests in the Covington Diocese in a 50 year period.

Each victim will receive between $5,000 and $450,000 depending on the severity of the abuse.

The Diocese of Covington released a statement tonight stating:

"We believe that this class settlement can promote healing both for the many victims who were abused and for the diocese itself."

Bishop Roger Foys has said from the beginning of this settlement process a few years go, that he would do all could to reach out to victims. He even personally met with more than 100 of them.

Frondorf says that compassion and validation means more than any monetary compensation.

"Bishop Foys has been very active and public and forward about reaching out to victims and survivors," said Frondorf, "and said, 'What can I do to help you?'"

Attorney Stan Chesley, who represents the abuse victims, calls this a landmark case and a landmark decision.

He says, "We feel comfortable we will be able to move forward expeditiously to make payments to the claimants and see to it that they receive fair compensation."

Where will the $85 million come from to pay for this settlement?

The dioceses says no parish funds or annual appeals money will be used.

Instead, the diocese says it has already placed into escrow a few properties in Boone County.

$40 million will come from real estate and investments from the diocese and another $40 million plus will come from insurance policies.

Settlement administrators will be appointed to sort through the 361 claims and determine how much each victim will receive.

Judge John Potter said though on Tuesday that no amount of money can replace what victims of sexual abuse lost at the hands of priests and nuns.

But he says the victims deserve to be compensated, which is why he approved the class-action settlement of up to $85 million dollars between sexual abuse victims and the Roman Catholic Diocese of Covington.

The settlement is one of the largest the church has reached with US parishioners molested by clergy.