Ex-Vatican Official Wanted on Ontario Sex Charges

By Greg McArthur
Globe and Mail [Canada]
February 2, 2006

http://www.theglobeandmail.com/servlet/story/RTGAM.20060202.wxvatican02/BNStory/National/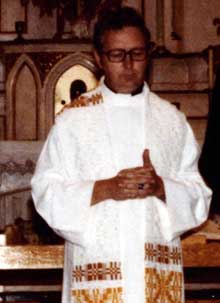 Monsignor Bernard Prince, shown at a wedding in 1979, was a friend of Pope John Paul II.


Ontario Provincial Police have issued a warrant for the arrest of a retired Vatican official, a Canadian, who was close with Pope John Paul II and is now wanted on sex abuse charges.

Monsignor Bernard Prince, 71, who once travelled the world promoting Catholicism as the secretary general for the Pontifical Society for the Propagation of the Faith and is now retired in Rome, has been accused of sexually assaulting a teenage boy.

The alleged victim, who is now in his 50s, came forward months ago, claiming he was molested when he was an altar boy at the church where Father Prince served in the Upper Ottawa Valley during the late 1960s.

Detectives are also interviewing several other men who as boys attended the church or spent time at Father Prince's cottage in the small town of Wilno, Ont.

Rumblings of the police investigation have trickled back to the priest's home in Rome. Father Prince, who was known to arrange for fellow Canadians to meet his friend Pope John Paul, said yesterday that he had been informed through a third party that there was an allegation of "wrongdoing," but that he had not been contacted by the police.

He declined to discuss his case, the latest in a long list of sexual-abuse allegations to shake the Catholic Church and one of the first dealing with top levels of the Vatican hierarchy.

Father Prince said he finds it strange that detectives haven't contacted him, even though the warrant was issued in October and he's been available to take their questions. In an interview from his home in Rome yesterday, he said he didn't know the exact nature of the allegations.

He has retained a lawyer, the same lawyer who represents his Ontario diocese, the Catholic Diocese of Pembroke. He would not say if he was planning to return to Canada to face the charges. "I have no idea. I can't say anything right now."

If he opts not to return voluntarily, the OPP shouldn't expect any help from Vatican City, said Rick Romley, a former Arizona prosecutor who has urged Vatican officials to apply pressure to a number of priests wanted in the United States.

In 2003, Mr. Romley asked the church to force two fugitive priests who had moved to Mexico and Ireland to return. When he sent indictments against both to Vatican officials, the package was sent back, unopened, he said.

"They continued to publicly state that they would co-operate. Perhaps they spell co-operation differently than me. Behind the scenes, they were very unco-operative," Mr. Romley said.

Investigations by the Dallas Morning News haveshown that superiors within the Catholic Church knowingly transferred priests who were wanted or were being investigated by authorities, including some who were sent to Rome.

Canada has an extradition treaty with Italy, but not with Vatican City, which is its own state, has a seat at the United Nations and is not subject to the same laws and regulations as Italy. If Father Prince retreats to the tiny Catholic state, the Crown prosecutor might be powerless to get him in front of a Canadian judge. If he stays in Italy he may be extradited by authorities, who have shown a willingness to enforce their treaties with the West and arrest wanted members of the clergy.

If Father Prince comes back to Canada in custody, it will be a jarring sight for the people of Wilno, the tiny Polish settlement where he grew up and where he is fondly remembered as a modern, fun-loving priest. He was seen as a more approachable figure than some of the older, stricter priests, the people in Wilno say.

"Everybody loved Father Bernie," said David Shulist, an amateur historian who grew up in Wilno.

Father Prince never served as a parish priest in the rural village, which is east of Algonquin Park, but residents say his Wilno cottage became his retreat whenever he had time away from his parish in nearby Pembroke, or the Canadian Conference of Catholic Bishops, where he worked in the 1970s.

Wilno was also his connection to John Paul II, who befriended Father Prince before he became the highest-ranking Catholic in the world.

Father Prince had travelled to Poland to explore his Polish roots and met Karol Wojtyla there, said Rev. Mervin Coulas, an associate of Father Prince, who has a parish not far from Wilno.

In the early 1990s, Father Prince took up a position with the Vatican's Roman Curia, the civil service of the Catholic state. Before long, he was travelling to countries such as India, where he has presided over the inauguration of a church.

A few years ago he arranged for Father Coulas to take part in a mass with John Paul at the Pope's private chapel.

"Not too many get to do that," Father Coulas said. "[Father Prince] was able to get the audience -- he knew who to contact in the Vatican."

Father Coulas wouldn't comment on the charges but he heralded Father Prince for fostering respect for the priesthood.

"He's done wonderful work for many, many people and [is] not only respected throughout Canada but throughout the world."