OPP Charges Vatican Official with Assault

CTV [Canada]
February 3, 2006

http://toronto.ctv.ca/servlet/an/local/CTVNews/20060202/vatican_official_allegations_060202/20060202?hub=TorontoHome

A retired Canadian priest who once held a senior post at the Vatican and was a close friend of Pope John Paul II is wanted by police on sex abuse charges.

The Ontario Provincial Police have charged Msgr. Bernard Prince, 71, for allegedly assaulting an altar boy in the 1960s, but the priest has not responded to an arrest warrant.

Prince is charged with buggery and indecent assault on a boy who was 12 when the alleged assaults occurred. Prince was a parish priest at the time.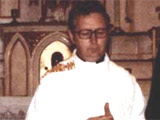 Monsignor Bernard Prince is seen in this image taken during a wedding in 1979. (image: The Globe and Mail)




The complaint, which stemmed from a visit to Prince's home more than 35 years ago, was received by police in May 2005. Prince was working at the Vatican when the investigation began.

The OPP obtained an arrest warrant for Prince. But the retired priest, who lives near Rome, Italy, has not responded to the warrant, according to OPP spokesperson Sgt. Kristine Rae-Cholette.

Prince has not been arrested and police are waiting to see what Prince will do next.



"We give him the opportunity to see if he's going to come back on his own," Rae-Cholette told CTV.ca. "If he doesn't then investigators have to take what they have and decide if they are going to seek outside assistance."

Extradition proceedings have not been launched. Canada has an extradition treaty with Italy, but not with Vatican City, which is its own state. An extradition can take a long time to complete and officers have no guarantees of success.

If Prince retreats to the tiny Catholic state, the Crown prosecutor might be powerless to get him in front of a Canadian judge.

If he stays in Italy he may be extradited by authorities, who have shown a willingness to enforce their treaties with the West and arrest wanted members of the clergy.

Father Prince, who was known to arrange for fellow Canadians to meet his friend Pope John Paul II, said from his home in Rome Wednesday that he had heard via a third party that there was an allegation of "wrongdoing," but that he had not been contacted by police.

The Globe and Mail reported that Father Prince declined to discuss the case, but that he has retained a lawyer, the same lawyer who represents his Ontario diocese -- the Catholic Diocese of Pembroke.

Father Prince, who no longer works for the Vatican, would not say if he was planning to return to Canada to face the charges.

"I have no idea. I can't say anything right now," he was quoted as saying in The Globe.

Police are also investigating several more allegations against the priest from Ontario communities where he worked in the 1960s and 70s.

Rae-Chollette could not say how many complainants have come forward. However, she said Prince lived in several Ontario communities including Wilno, Ottawa, Pembroke, Arnprior, Toronto and Kingston as well parts of the U.S.

He rose through the ranks of the Roman Catholic Church to work at the Vatican, where he retired last year.