14 Years of Exile Finally End As Bishop Casey Returns

By Allison Bray
Irish Independent
February 6, 2006

http://www.unison.ie/irish_independent/stories.php3?ca=9&si=1556097&issue_id=13639

IT was a sea journey of under three hours, but emotionally and spiritually it was the most momentous voyage of his life.

Former Bishop of Galway Eamonn Casey finally came home last night after 14 years in exile.

Relaxed and with head held high, Dr Casey lived up to his nickname last night as he sped past a media throng after arriving by ferry shortly before teatime.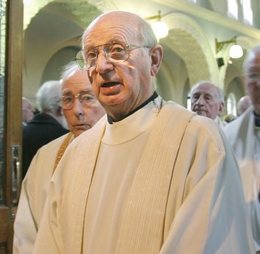 The cleric fled the country after he admitted to fathering his son, Peter.




Known affectionately as 'Wheels' for his penchant for fast cars and driving, the 78-year-old cleric and a middle-aged male driver used the sun visors in the ex-bishop's modest Volkswagen Golf to shield themselves from cameras as they breezed through Dublin Port at breakneck speed after disembarking from the Jonathan Swift ferry from Holyhead shortly before 5.30pm.

Relaxed

During the ferry journey, he appeared relaxed and content as he contemplated his return.

A fellow passenger on the Irish Ferries Seacat, who spotted Dr Casey sipping a cup of tea at the canteen in Holyhead before the scheduled 2.50pm sailing, said the former bishop was immediately recognisable - although older and thinner, and sporting a trendy leather jacket over his priestly garb.

"He seemed happy enough and he didn't look too disconcerted," the passenger said.

He was spotted again on the ferry, casually reading a newspaper and taking a stroll around the deck.

"He looked just as relaxed as the other punters onboard. I even saw one person shake his hand," he added.

Before his departure from his Sussex home on Saturday, Dr Casey packed up his car along with a computer printer, fax machine, framed photographs and other personal items.

Wary of the growing press gang that had assembled outside his home, he eventually told them he was looking forward to returning to Galway - stating "I'm pleased" when asked about his long trip home.

Although he had made previous visits to Ireland, yesterday was the homecoming he had patiently waited for since fleeing Ireland under a cloud of shame when he admitted to fathering his son, Peter, with American divorcee, Annie Murphy, in 1992.

Since then, following a stint in Ecuador, he has made the little English village of Staplefield, West Sussex, a home - where he has been a curate at the Our Lady of Fatima church. But with a desire to retire back home in Ireland on invitation from Bishop of Galway Martin Drennan; and with a spacious and newly renovated home awaiting him in the village of Shanaglish, south Galway, courtesy of the parish of Beagh, where he is to receive a hero's welcome in the coming week, the sins of the former father appeared to be the last thing on his or anyone else's mind yesterday.

Mass-goers at the Co Galway parish yesterday - many of whom were middle-aged adults when the scandal first broke - said they would welcome the former bishop back with open arms.

However, it emerged last night that it may be a week or so before Dr Casey actually takes up residence in his new home.

The only hurdle he now faces is to be interviewed by gardai in Limerick in connection with a sexual assault complaint by a woman going back over two decades. The complainant alleges she was sexually assaulted as a child, but Dr Casey has vigorously denied the allegation and has said he is confident he will be vindicated. Due to the allegations he has been prevented from saying Mass.