Church Accuser Confronts Bishop Murphy after Mass

By Eden Laikin
Newsday [Long Island NY]
February 6, 2006

http://www.newsday.com/news/local/longisland/ny-liabus064616080feb06,0,6016713.story?coll=ny-linews-headlines

A man who says a former Long Island priest abused him and four of his younger siblings decades ago confronted the leader of the diocese yesterday, as about 25 members of two survivor advocacy groups demonstrated outside St. Agnes Cathedral in Rockville Centre.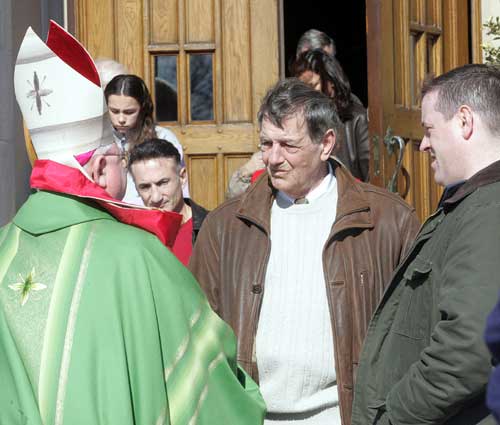 Bishop Murphy greets Dick Regan (leather jacket) after morning mass. Regan was abused by a Catholic priest as a child, Sunday, February 05, 2006. Man at right is Tim Echausse, Regional Director of SNAP ( Survivors Network of Those Abused by Priests ). (Newsday / Audrey C. Tiernan)



Dick Regan traveled 300 miles from his upstate home near Rochester yesterday to personally ask Bishop William Murphy to meet with him and his siblings. Murphy has previously said he will meet with Regan, but has repeatedly refused to meet with the entire family.

"I figure these people are supporting my family, the least I can do is come down and show solidarity," Regan said of the members of SNAP - the Survivors' Network of those Abused by Priests - and Voice of the Faithful, who held signs bearing messages such as: "Bishop Murphy: Why won't you keep your word?"

A spokesman for the diocese said the bishop's offer to meet with Dick Regan still stands.

"It's been the bishop's experience that it's better to meet individually than with a large group," spokesman Sean Dolan said.

Regan approached Murphy after the bishop said Mass, as Murphy always does the first Sunday of every month at St. Agnes.

Regan shook his hand, introduced himself, and explained that he and his siblings were victims of abuse by the Rev. Daniel Babis, who was assigned to three Long Island parishes and died in 1978. Regan and four of his siblings have filed court documents notifying the diocese they intend to sue. Murphy said: "God bless you" and "call my office" before walking away.

"He was holding my hand and trying to move me along," Regan said.

Tim Echausse, SNAP's Long Island director, asked Murphy why he would not meet with the whole Regan family. "You know that's not my style," he said Murphy told him.

"He made a promise that he would meet with the victims," Echausse said. "The Regan family was abused as a family and are seeking healing as a family."

As members of the media gathered around the bishop, Murphy's vicar general, Msgr. Robert Brennan, pushed a Newsday photographer.

The diocese said later that while Brennan regrets his actions, "it was inappropriate for the news media to come onto private property and interrupt a priest greeting parishioners upon exiting Mass," Dolan said. "We apologize to the photographer, but it was not the right time."