'My Sincere Apology'
Imesch Letter Expresses Regret, Urges Healing

The Herald News
February 7, 2006

http://www.suburbanchicagonews.com/heraldnews/top/4_1_JO07_IMESCH_S1.htm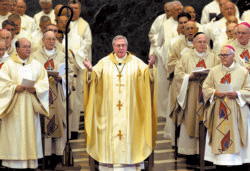 Bishop Joseph Imesch is shown in this August 2004 file photo. Imesch released a letter Sunday explaining to parishioners how the Joliet Diocese has handled allegations of child abuse by the clergy.



JOLIET — Joliet Bishop Joseph Imesch said in a letter to worshippers that he cares about the safety of children despite questions about how he has handled reports of alleged sexual misconduct by priests.

The letter, which was read in parishes over the weekend, responded to news reports of a 2005 deposition in which Imesch said he allowed at least four priests to continue working after he received credible allegations of misconduct.

"The media reports tend to portray me as someone who doesn't care about the safety of children," Imesch wrote. "Nothing could be further from the truth. I became a priest because I care."

The diocese tried to keep the deposition from the public, arguing the release would cause the allegations to be tried in the news media. DuPage County Judge Stephen Culliton ruled to unseal it Feb. 2.

The deposition is part of a lawsuit against the diocese by a man who alleges the Rev.

Edward Stefanich sexually abused him in the 1960s at the same Lombard parish where another priest was accused in the 1980s.

In the deposition, Imesch said he knew about reports that the other priest skinny-dipped and played poker in the nude with young boys. That priest was moved from Lombard to Lockport, where he again was accused.

Imesch, 74, has been bishop in Joliet for 26 years.

Christopher Groh, pastor of St. Mary Nativity Catholic Church in Joliet, said he welcomed the opportunity to share Imesch's side of the story by sending copies of the letter home with parishioners Sunday and posting it on the church's Web site.

"It was something that needed to be done," he said, calling media reports of the bishop's deposition and handling of abuse allegations "incomplete."

Twenty-five years ago, it was considered a misdemeanor to touch a child inappropriately, he added, explaining how the Catholic Church relied on psychologists to determine whether a priest was capable of going back into the ministry.

For the most part, they were successful, said Groh.

'A duty to call the police'

David Clohessy, national director of Survivors Network of Those Abused by Priests, disagreed, calling Imesch's letter an excuse.

"It's just pathetic that Imesch is blaming therapists," he said. "He knew child sex abuse was a crime. ... He knew he had a duty to call the police. He never did. Not once."

He also dismissed suggestions that the Catholic church was limited in its abilities to discipline priests because sex abuse was considered a misdemeanor 20 years ago.

"(That's) a pretty common excuse," he said. "But a poor excuse."

Groh suggested the media publish the 270-page deposition in its entirety so people can decide for themselves whether Imesch acted appropriately.

"I don't think the media is giving a complete picture," he said.

Parishioners, a pastor react

"It was something that needed to be said because, obviously, it was mishandled," said Barbara Karwoski, 40, a mother of five, who listened as Imesch's letter was read from the pulpit at St. Thomas the Apostle Catholic Church in Naperville.

Patricia Stading, a Naperville retiree and former schoolteacher, said, "I like it, but I think he should have accepted more responsibility."

"The majority of priests are good guys," said the Rev. Mark Cote, associate pastor at St. Thomas. "It hurts us just as much as it does anyone else."

Cote, who was ordained 18 months ago, said his seminary class was told: "Your generation is going to be the generation to rebuild trust."