Family Faces Painful Past
Years after They Befriended Alleged Pedophile Priest, Siblings Come to Grips with the Truth

By Eden Laikin and Tom McGinty
Newsday [Long Island NY]
February 7, 2006

http://www.newsday.com/news/local/longisland/ny-liprie0207,0,4139297.story?coll=ny-homepage-bigpix2005

Former New York City police Officer Dick Regan was recuperating from surgery at his upstate home last April when he came across a news story about the sale of a Water Mill estate that once was a retirement home for Dominican nuns.

Within minutes, he was on the Web site of the Realtor who handled the sale, viewing pictures that brought back horrific scenes from his childhood.

A building in one photo triggered memories of the bedroom with the dark, leather couch where he says a Catholic priest molested him when he was 8 years old. "He would come sit on the couch, fondle me, kiss me on the stomach," said Regan, now 62.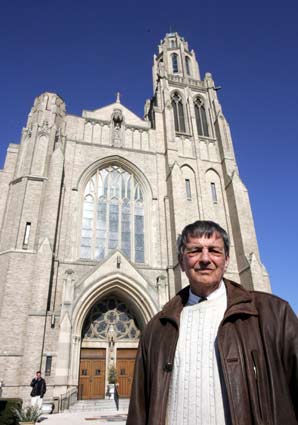 Dick Regan, who says he was abused by a Catholic priest as a child, stands outside St. Agnes Cathedral in Rockville Centre. (Newsday / Audrey C. Tiernan)





Another picture showed the chapel where Regan said the same priest would prop him in a wooden pew just moments after abusing him, then ascend the altar to say Mass.

He thought back to overnight trips with the priest, when he and a sister were molested in the priest's bedroom, he said. And he thought of another sister who had been abused in separate incidents and who, like Dick, had kept it a secret from the rest of their siblings.

Over the following weeks, on the advice of an advocate for victims of priest abuse, Regan shared his traumatic story with the rest of his siblings, seeking their support and understanding.

It was only then that the enormity of what had happened to the Regans became clear: Five of the family's eight children said they had been sexually abused by the Rev. Daniel Babis, a trusted friend who had been welcomed into the Regans' Howard Beach home for much of the 1950s and '60s.

The priest abuse scandal has rocked Catholic parishes across the nation, but none of the half-dozen experts interviewed by Newsday could recall a single family with as many victims.

Now -- 35 years after the fact -- the Regan children and their elderly mother are struggling to confront the disturbing history that for so long was shrouded in secrecy, even among themselves. The memories have provoked widely varying reactions in the siblings -- fear that the old wounds, once opened, might never heal; guilt that by not reporting the alleged abuse earlier, they had made it possible for Babis to molest the younger siblings; and a fierce determination to confront high church officials with their stories.

Dick Regan revealed the family's allegations to the two New York dioceses where Babis served -- Rockville Centre and Brooklyn-Queens. And last month, the family sued the Diocese of Rockville Centre and its bishop, William Murphy, in State Supreme Court. A diocese spokesman said they don't comment on pending litigation. Since the suit, others have approached the family's attorney and said they, too, were abused by Babis.

Dick Regan said he had hoped that by coming forward the family would help others face their painful pasts. But it hasn't been easy for the Regans.

"It's been sorrowful at times to see how hurt some of the other members of my family were upon hearing this, and doubly painful for me because I was trying to talk with them to get their support," said Dick, who on Sunday confronted Murphy outside St. Agnes Cathedral in Rockville Centre after the bishop had said Mass.

"When I found out they were abused, I did a lot of crying," Regan said.

No past allegations

Babis died in December 1978 in Florida, where the church had sent him to aid refugees. There have not been any previous allegations against him, according to the dioceses where he served.

Two relatives of the late priest -- the widow of one of his brothers and a nephew -- said in interviews that they had never heard of any allegations against Babis. "He used to take me on trips with a youth group from the Howard Beach parish," said his nephew, Douglas Babis, 63. "He never made advances toward me."

But John Aretakis, the Manhattan lawyer representing the Regans, said news coverage of the lawsuit prompted a family from Lynbrook to contact him and allege that Babis had abused three children in that family. The two brothers and one sister were members of Our Lady of Peace parish, the last Long Island church where Babis served.

Also, a 53-year-old woman from the same parish contacted Newsday and said Babis once asked her to sit on his lap in the rectory when she was about 9 years old. She said he touched her inappropriately, reaching his hand under her dress.

The three Regan children interviewed by Newsday -- Dick, 62, JoAnn, 46, and a brother who does not want to be identified -- say that Babis molested them by fondling them, ogling their naked bodies and photographing the girls without their clothes on.

The abuse occurred in their home, in church buildings and on overnight trips with the priest, they said, and spanned nearly two decades. Over that time, Babis served in a succession of assignments in Queens and on Long Island, at one point moving between four postings in just five years.

The Rev. Thomas Doyle, an advocate for abuse survivors who investigated clergy pedophilia cases as a canon lawyer in the Vatican office in Washington, said Babis' frequent reassignments raise questions.

"If a man is transferred every year, it's very unusual, and it indicates that there's a serious problem somewhere," Doyle said.

The relationship begins

The Regans met Babis during his first assignment, at Our Lady of Grace church in Howard Beach, where he served from 1949 to 1954.

At that time, the Regans' father, Richard, a New York City police officer, was disabled with an ulcer and spent months at a time in the hospital. Babis became something of a surrogate father for the churchgoing family, frequently visiting for dinner and tucking the children into bed at night while their mother, Josephine, washed the dishes, family members say.

"He befriended the family at a very vulnerable point," said Dick, the oldest child.

Experts say it was not uncommon for an abusive priest to insinuate himself into the fabric of a family and to abuse more than one of the children.

"Priests often develop a special relationship with a family, they get to know the entire family," said Mary Gail Frawley-Odea, a clinical psychologist in North Carolina who has been treating adult survivors of childhood sexual abuse for 25 years and recently finished a book on the priest abuse scandal.

"They are trusted," Frawley-Odea said. "They are like God on earth. And so they have easy access to entire families of kids in ways that teachers or scout leaders would not."

Even though most of the Regan children said they had suffered the same traumas, they lived separately with their own pain until Dick began calling them one by one last year.

One sibling who did not want to be identified at first would not talk about the abuse Dick believed had occurred. Then the sibling called Dick back and begged him not to go public with the family's allegations, and ultimately stopped returning his phone calls, Dick Regan said.

One sister cried hysterically when Dick called, Dick said, saying between tears, "I thought I was the only one. Oh my God, if I came forward sooner, maybe they wouldn't have been abused."

"I said, 'But you were only nine years old,'" Dick recalled.

The brother who did not want his name used said he initially asked Dick, "Where are you going with this? Babis is dead." He eventually agreed to join the lawsuit against the diocese, but still fears what lies ahead.

"I pray it's not opening a giant wound that doesn't heal," he said. "Dick brought this to light. It's dragging everyone through unpleasant memories."

Another brother initially denied to Dick that anything had happened to him, only to call back weeks later and say, "Put me on your list," Dick said. The brother has since told Dick that he is beginning to understand that the abuse he suffered as a child has led to problems in his adult life, and he said he thinks Dick is courageous to confront the truth, Dick said.

JoAnn, who had sought counseling years ago, said she once had resolved to find and confront Babis on her own, only to learn he had died. When Dick dredged up the past again last year, she asked, "Do you really want to go there?"

Not long after talking with Dick, JoAnn took a pleasure trip to Tennessee with her 7-year-old daughter and learned that the demons from her youth were not far below the surface.

"The next thing I know, I am in Tennessee at a hotel and my daughter is on a cot," she said. "I am up all night crying, thinking about the scenario where I am on a cot in a hotel being abused by a priest."

Facing the past

Today, JoAnn is just as determined as Dick to confront the family's past head-on.

"We didn't have a voice as children; we want to be heard as adults," she said.

Josephine Regan, the 82-year-old matriarch of the family, is a devout Catholic who was raised in a convent after her mother died. She said in an interview that she hasn't been able to get rid of the feelings of guilt, sadness and disgust since she discovered the alleged magnitude of Babis' betrayal.

"What's shocking and what's breaking my heart is how could he frighten them so badly?" she said recently.

Josephine has been living with at least a portion of that pain since 1967, when one of the girls who was about to leave for an overnight trip with Babis begged not to go and claimed to have been fondled by the priest. Josephine and her husband, who died in 1992, confronted Babis, but he convinced them the allegations weren't true.

In 1968, JoAnn, who didn't know what her sister had told her parents a year earlier, confided in her godmother that Babis had molested her. The godmother told JoAnn's father, who called Dick and asked if the priest had ever abused him. "I got choked up," Dick recalled. "I said, 'Yeah, Dad, he did.' Dad cried his eyes out."

Dick, then 25, got off the phone with his father and told his wife, Donna, the secret he had never shared with anyone outside the family.

"I can see the look on his face," Donna Regan, who's been separated from Dick for 10 years, recalled recently in an interview. "He was visibly upset. He was already on the police department. It was embarrassing. He didn't want anyone to know."

The next day, Dick Regan got another call from his father, who said he was meeting with Babis late that night, behind the Waldbaum's supermarket on nearby Cross Bay Boulevard, in Howard Beach. He asked his son to be there as backup.

Dick arrived an hour before his father and Babis. He parked behind a trash bin, put his police service revolver on his lap and wondered to himself, "Am I going to have to kill a priest tonight?" he recalled.

Dick watched as his father and Babis each pulled up and then met in the priest's car. They talked for a half hour. What they said to each other was added to the long list of family secrets: Dick and his dad drove away separately and never spoke of it, Dick said.

None of the Regans ever saw Babis again.