Pastor Questions Handling of Allegations

By Leah Hope
ABC 7 [Chicago IL]
February 8, 2006

http://abclocal.go.com/wls/story?section=local&id=3885706

February 7, 2006 - An influential pastor, Father William Kenneally, is raising questions about how Cardinal Francis George handled the recent sex abuse charges against a Chicago priest.

Father Kenneally regularly holds forums to discuss issues or concerns of parishioners. He says he's seen increasing concern about allegations against area priests as well as criticism for Chicago's archbishop. As Father Kenneally prepares to retire, he hopes to start a discussion that leads toward resolution.

The pain felt by parishioners at St. Gertrude's is shared by many area Catholics after years of accusations of sexual abuse by priests. That pain was among the topics of Sunday's mass. St. Gertrude's pastor said anyone who had disregarded new rules designed to protect children should resign.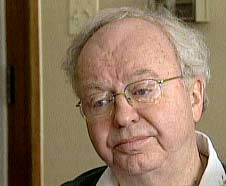 "The cardinal had mentioned that opinion, I think that's not just something you apologize about, that's what you resign over," said Father William Kenneally, St. Gertrude.

Kenneally's comment got a lot of attention. Father Bill, as he's known, says he's not asking that Chicago's archbishop cardinal George resign, but does hope archdiocese leadership will take some action to heal the pain caused by the scandal.

"I think the priests have not figured out a way of dealing with this and it has a tremendous effect on morale," said Kenneally.

The Survivors Networks of Those Abused by Priests, known as SNAP, has asked that Cardinal George and diocesan staff be punished for the way a recent case was handled. SNAP's spokeswoman says there should be action against the archdiocese for not removing Father Dan McCormack when allegations first surfaced that he sexually abused children.

"I'm not saying he should step down, but he should be disciplined and his staff should be disciplined," said Barbara Blaine, SNAP.

A spokesman for the archdiocese says they are working on new policy to better protect children and the cardinal is aware of the discussion about discipline and resignation.

"There's a misunderstanding about what he's done and how important compliance and the safety of kids are. In a challenge to that, whether coming from a priest in a parish or someone else, I think he feels it deeply," said Jimmy Lago, Archdiocese of Chicago.

The archdiocese spokesman says they will reveal more about the new policy in the coming days. Clearly, some are growing impatient with the current way of dealing with allegations of abusive priests.