Rector Is Placed on Leave
Cathedral of St. Raymond: Rev. James Burnett Faces Allegation of Sex Abuse

By Ted Slowik
The Herald News
February 8, 2006

http://www.suburbanchicagonews.com/heraldnews/top/4_1_JO08_PRIEST_S1.htm

JOLIET — The Roman Catholic Diocese of Joliet placed the rector of the Cathedral of St. Raymond on administrative leave Tuesday after a Gulf War veteran went public with a sexual abuse allegation.

The Rev. James Burnett denies Dan Shanahan's claim that the priest molested him about 40 times beginning when he was 8 years old in 1978 at St. Mary Church in Mokena. Some of the abuse happened in a confessional at the church, the ex-Marine said.

"He told me that this was a secret between me, you and God," Shanahan said during a press conference at an attorney's Chicago office.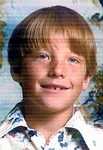 Shanahan at age 10



Shanahan, 34, who now works in real estate in Phoenix, said he broke his silence by telling his sister in December and first contacted the diocese shortly before Christmas. His sister, Christine McGovern of Chicago, said she was frustrated by how Joliet Bishop Joseph Imesch handled the claim when they spoke by phone about eight weeks ago.

"His first response was: 'I've known Father Burnett for many years. He's my friend. I doubt it happened,'" McGovern said. "He should have been able to be a little bit more supportive of my brother."

Shanahan also contacted The Herald News in December about the claim, which the newspaper chose not to report at that time because the diocese had not restricted Burnett's public ministry. When told of Shanahan's allegation five days before Christmas, Burnett said, "That never happened."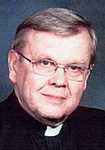 Burnett



The priest said he recalled the Shanahan family from Mokena, and that Dan had written him in 1990 while serving during the first Gulf War. The priest replied with a letter, but said he hadn't heard from Shanahan for the past 15 years.

Shanahan was asked Tuesday if he had ever confronted Burnett about the allegations.

"No," he said. "I didn't ask anything. I wanted to know if I could contact him. He wrote back, (but) I didn't write back because the war was getting ready to be over."

He decided to go public, he said, out of "guilt" that other children might be at risk and in hopes that others might come forward with information about Burnett.

The diocese said in a statement that it began an investigation upon learning of the claim. Another priest at St. Ray's was told to monitor Burnett during the investigation, and Burnett was told to not have contact with children. Shanahan was offered counseling, and the Will County state's attorney's office was contacted.

"We did receive a referral, and it's under investigation," State's Attorney James Glasgow said Tuesday.

McGovern said she reported the claim to the state's attorney's office because she believed the diocese would not.

The diocesan review board will consider the allegations when it meets in mid-February.

Burnett has served at four parishes since he was ordained in 1968: St. Charles Borromeo, Bensenville (1968-74); St. Mary, Mokena (1974-90); Ss. Peter and Paul, Naperville (1990-2002); and St. Raymond, 2002-present.

Parents of children at St. Raymond School learned of the allegations from a letter sent home on Tuesday. The parish was said to be planning a prayer service for Burnett to be held tonight at St. Ray's.

"I ask for the prayers of everyone for our parish and school during this most difficult of times," Principal Ed Condon said in the letter.

Parishioners and parents on Tuesday reacted with shock and disbelief, and some pledged support for their suspended pastor.

"I know the character of the man, and I know he's not capable of the action," parent Mary Bannon said.

Other Joliet Diocese priests have been reinstated to active ministry after investigations determined that allegations were not credible. Minneapolis attorney Jeff Anderson, who sat beside Shanahan at Tuesday's news conference, questioned Imesch about false accusations during a deposition for a lawsuit last year. A judge's ruling made the bishop's testimony available to the public last week.

Anderson: "How do you determine when an allegation of sexual misconduct by a priest is made what is credible and what is not?"

Imesch: "The review committee now makes the decision. There have been nine cases of false allegations against priests in the diocese."

When asked for names of priests who were falsely accused, Imesch cited the Rev. Thomas White and the Rev. James Murphy, both of whom were reinstated to active ministries in recent years. He also cited the late Rev. Michael Foley, a onetime principal of St. Francis High School in Wheaton, who was found not guilty after a criminal trial, and the late Rev. David Stalzer, a popular Joliet priest whose accuser dropped his claim.

Imesch told Anderson he prepared a list of falsely accused priests "for his own information."

"There's a list of those who were accused and a list of those who were falsely accused," Imesch said.

The Archdiocese of Chicago, facing criticism for leaving the Rev. Dan McCormack in ministry for several months despite a report that he had sexually abused a boy, said this week that it would revise its policy to immediately remove a cleric from ministry pending the outcome of an investigation.

"Whenever an adult comes forward with an allegation of abuse that was to have occurred over 20-30 years ago, it is the policy of the diocese that the priest remain in ministry until the allegation has been determined credible," the Joliet Diocese said in a statement issued Tuesday.

Shanahan's attorneys said they were considering filing a civil lawsuit about the allegations concerning Burnett.

At the news conference, Shanahan said Burnett was his "best friend" when he was younger.

"I think about it on a daily basis," he said. "I feel a lot of pain every day of my life. I want to make sure no other children get abused."

- Contact Ted Slowik at (815) 729-6053 or at tslowik@scn1.com.