Arrest of Chicago Priest Raises Questions about Reform

By Monica Davey
The New York Times
February 9, 2006

http://www.nytimes.com/2006/02/09/national/09priest.html?_r=1&oref=slogin

CHICAGO, Feb. 8 - Last August, a young boy told the police that a Roman Catholic priest had groped him after Mass at St. Agatha Catholic Church, a West Side parish.

Officials at the Chicago Archdiocese were told of the claim by prosecutors, but no criminal charges were brought at the time, and the priest, the Rev. Daniel McCormack, was kept on as pastor at the church and as basketball coach at the parish school.

In recent weeks, Father McCormack was arrested and charged with abusing the boy and two other young boys - at least one of them, the boy's lawyer says, in the months since August. The charges have set off a storm of new concerns that the Roman Catholic Church in America has not done enough to address the problems of sexual abuse by priests despite years of a roiling scandal.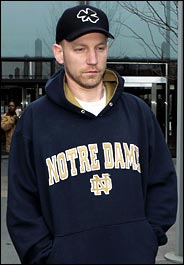 Charles Rex Arbogast/Associated Press
The Rev. Daniel McCormack has been arrested and charged after accusations of abuse.




Cardinal Francis George, the head of the Chicago Archdiocese and a leader among America's bishops, has been criticized by parents, victims' advocates and at least one priest for his failure to remove Father McCormack after the accusations in August. And leaders of a national review board, assigned to monitor the church's handling of sexual abuse against children, say the case points to a serious loophole in a charter set down in 2002 by the nation's bishops to deal with sexual abuse by priests.

"Chicago is a stark reminder that this problem has not gone away and that there is a culture that continues to breed this sort of thing," said Jane Chiles, a member of the national review board, a group of Catholic laypeople appointed by the American bishops. "The spirit of the charter was that at the moment an allegation is raised, a priest should be removed from the opportunity for contact from children and youth."

At its meeting next week in Austin, Tex., the board plans to discuss concerns that the current policies leave a loophole that could endanger children, Ms. Chiles said.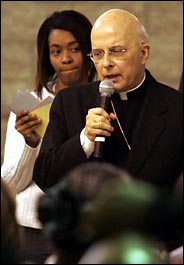 Nam Y. Huh/Associated Press
Cardinal Francis George, the head of the Chicago Archdiocese, has been criticized for not removing Father McCormack.




In some ways, the case here is rare. Since the scandal began, many of the reported cases have involved abuse that happened years, even decades, ago. But this one offers a look at how the church is handling current accusations by young people and how the 2002 policies are playing out.

In the days since Father McCormack's arrest late last month, Cardinal George has expressed remorse for not removing him from the ministry sooner.

"I'm saddened by my own failure - very much so," the cardinal told reporters outside Holy Name Cathedral last week, The Chicago Sun-Times reported. "I pray that there will be nobody who has been abused by Father McCormack who would not have been had I taken him out."

But Cardinal George and other church officials here in the country's third-largest diocese also have defended the decision, citing language in the local and national policies and in canon law that made it difficult, they said, to remove Father McCormack without more information about the accusations. In August, when the first boy raised allegations against Father McCormack, 37, he and his family took their accusations to the police, not to church officials, said Jimmy M. Lago, chancellor for the archdiocese.

Although church officials were informed of the police investigation, they said they were not allowed to read a transcript of a police interview with the boy, were not given the boy's name and were told that prosecutors had chosen not to press charges at that time.

John Gorman, a spokesman for the Cook County state's attorney's office, said prosecutors told church officials that they could not turn over the notes of the interview because they belonged to the police and advised the archdiocese to seek them directly from the police. A Chicago police spokeswoman did not respond to repeated inquiries about the notes.

Mr. Gorman also said the prosecutor's office did not provide the boy's name to the archdiocese officials, but, as is standard practice, provided the boy's family with contact information for those officials.

Ultimately, church officials did communicate with a lawyer for the boy's family, Mr. Lago said, but they were unable to pursue the accusations against Father McCormack themselves to determine whether they were credible.

"What we knew was that the police had taken him in, he wasn't charged, and no one said there was an ongoing investigation," Mr. Lago said. "So the question came: Is there a credible allegation for us to look at?"

A lawyer for Father McCormack, who is scheduled to have a preliminary hearing on Friday in connection with three charges of aggravated sexual abuse, did not return a reporter's phone call on Wednesday.

Critics of Cardinal George said he should never have allowed the priest to stay put, particularly given the policies adopted at the meeting of bishops in Dallas in 2002.

"The Dallas charter was clear," said Barbara Blaine, a leader of the Survivors Network of those Abused by Priests. "What the bishops touted there was that no longer would any priest with a single allegation against him remain in ministry. So it's outrageous that Cardinal George would take a risk like this, after all the pain and suffering we've heard about, after all the lives that have been wrecked."

Mr. Lago said he did not believe that Cardinal George's decision violated the intent of the charter, but he said, "That doesn't remove the fact that we should have found a way to remove Father McCormack."

Still, canon law experts and others said some language from 2002 is vague. One section of the policies, regarding at what point in an investigation a priest must be removed from his ministry, states that a priest should be removed when "there is sufficient evidence that sexual abuse of a minor has occurred."

"What's sufficient for you may not be sufficient for me," said the Rev. James A. Coriden, a professor of church law at Washington Theological Union. "In several places, like this one, the language of the norms is very elastic, and that has caused a great deal of controversy with people making different judgments."

Jeff Anderson, a lawyer from St. Paul who is representing one of the three boys, said Cardinal George's decision remained deeply disturbing.

"What this really demonstrates is that the policies and promises that the bishops promulgated in 2002 were really just words," he said. "They were just public relations."