"I Am Forever Grateful to the Nuns and the People of Dundalk"

By Margaret Roddy
The Argus [Ireland]
February 9, 2006

http://www.unison.ie/the_argus/stories.php3?ca=38&si=1557964&issue_id=13651

Kathleen McShane feels she is a lone voice speaking in the wilderness. At a time when the Commission to Inquire into Child Abuse has been hearing harrowing tales of what it was like for children growing up in Industrial Schools around the country, including St. Joseph's Orphanage in Dundalk, she cherishes her memory of her years spent in the care of the Sisters of Mercy.

Now sixty-one years of age, Kathleen was just four years old when she placed in St. Joseph's Orphanage in November 1948 after her mother feel ill with TB which was then rampant in Ireland.

"I went in with my two younger sisters when my mother was dying with TB," she says. The sisters remained in the orphanage after her mother died the following January, while her father cared for their brother.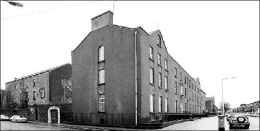 The former St. Joseph's orphanage in Dundalk




"I found in my experience that the nuns did their best for us, really and truly," she says.

"I never felt any fear, and know of no-one who did."

"The nuns did their level best for us, their vows which they had to say every night wouldn't have allowed them to be cruel to us."



Kathleen (nee Casey) from Hackballscross feels that "people are looking back at the '40s and '50s and expecting things to be the same then as they are now."

She points out that times were hard for everyone in those days.

"I sat beside girls at Realt na Mara and knew I had better times than they had," she says, recalling one girl telling her she was leaving school at fourteen to work in a factory while she was stayed 'til she was sixteen.

"Remember there was no free education until the '60s," she says. She is grateful for the education she received, pointing out that the girls were also taught household management and cookery.

"We did have to do work, for it was an Industrial School, that's where the name came from. We had to make our beds and we'd work in the kitchen, dining hall, or dormitory, cleaning and scrubbing and the jobs changed every couple of months."

"We did have chores to do, but if I had been living at home, I'm sure it would have been the same."

"We were never starving and I remember Dr McCabe, the Inspector, coming in and telling us that we were in one of the best orphanages in Ireland."

Kathleen says that the girls were punished if they were bold. "We would get a slap with a stick. The nun in charge wouldn't stand for anyone giving cheek to the paid staff or tolerate bullying. She was very fair." She admits that she got her fair share of punishment as she was a stroppy teenager.

"We grew up there. We went in as children and came out as young ladies, and went through the growing up period of being teenagers."

She recalls getting into trouble for protesting about the heavy black boots which the girls had to wear in the winter time. "They'd come in boxes and were really boys boots as they'd be sent to all the Industrial Schools."

Kathleen ended up having to explain her objections about the boots to the Parish Priest, Fr Campbell. He obviously took her views on board, as she recalls him speaking about it at Mass, and after the girls got proper boots donated by the townspeople.

"The people of Dundalk were really good to the orphanage," she says.

"Supt. McDonough arranged that every orphan got a 'fairy Godparent' who had to visit three times a year, at birthdays, Christmas and Easter," she recalls. "Mrs. McElduff took us to the Lorne Hotel, Nellie Faul brought us to Gyles Quay, and Christy McCoey hired a bus and took us to the zoo every year.

"We went to the Gaelic League Party every year for a Christmas party and we'd get a present from Santa. And on Christmas Day, the nuns would wait on us and we'd have a grand feast."

"As we got older, we'd go to the nuns summer house in Carlingford, two at a time, and we'd be sent out with our aprons and we'd do chores alongside the nuns. We'd get pocket money and would be able to go to the shop and get ice-cream like anyone else. This was preparing us for moving out."

"We got to the pictures and the all the musicals, and we did our own musicals and operettas to raise money for the Sunshine home in Port."

Kathleen says that when the time came for her to leave the orphanage she was given suitcase with proper shop-bought underwear, summer dresses, aprons and stockings.

"We were told that if things didn't work out right, we could go back."

She says that many of the girls would continue to go back and visit the nuns over the years. Those working in England would stay there when they came home on holiday.

Kathleen, like many of the others, also made her way to England, and worked as a nurse, as well as in the hotel business in England. She returned to Dundalk in 1979 and lives on the Dublin Road with her husband and pet dogs.

She is, she says, saddened at the bad publicity which those who ran the orphanage have received in recent times.

"I think the nuns did their best for us. They loved us and still do to this day. We were like their children. They watched us grow up and taught us everything they knew. The nuns worked seven days a week and didn't get a day off."

She says that she finds the revelations which have come from the Commission of Inquiry into Child Abuse very difficult to come to terms with.

"I really feel for the nuns, who are now in their twilight years, to have to ask themselves if they did right by us," she says.

She insists that her memories of her days in the orphanage are happy ones. "I speak as I find things," she says.

"We got our slaps, yes. There was a lot of bullying but when you get a lot of girls together you'll get that and it's still going on as I get anonymous letters and phonecalls because of what I've said."

She says that her views have cost her friendships.

"I was in touch with a lot of girls until the Redress Board was set up but that finished when I spoke out about the good the nuns did."

"There was a lot of poverty in Ireland at the time we were in the orphanage and we were no better or worse than anyone else. I never had a chip on my shoulder and I knew what my circumstances were. The nuns did their best for us and I feel I have to speak about it."

She adds that if she had felt she had been abused during her stay in the orphanage, she would have gone back there and confronted the nuns when she had reached adulthood.

"I am forever grateful to the nuns and the people of Dundalk."