'Grieving and Hurting'

By Ted Slowik
The Herald News
February 9, 2006

http://www.suburbanchicagonews.com/heraldnews/top/4_1_JO09_PRIEST_S1.htm

JOLIET — A day after their pastor was suspended because of a sexual abuse allegation, stunned parishioners at the Cathedral of St. Raymond gathered to pray for healing.

Prayers were offered for victims of sexual abuse, as well as for the parish and for the Rev. James Burnett. The cathedral rector was placed on administrative leave Tuesday, when a 34-year-old Gulf War veteran went public with an accusation that Burnett molested him while at St. Mary Church in Mokena about 25 years ago.

At a Wednesday morning Mass attended by students from St. Ray's School, the Rev. Brad Baker said the community "was grieving and hurting in so many ways."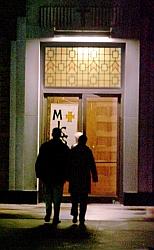 John Patsch / Staff Photographer
Parishioners enter the Cathedral of St. Raymond in Joliet for a prayer service Wednesday after the suspension of the Rev. James Burnett. Dan Shanahan alleges that Burnett molested him while serving at St. Mary Church in Mokena about 25 years ago.




"We feel hurt, denial, anger, confusion, compassion for victims and concern for our pastor," Baker said, his voice cracking with emotion. "God is with us amidst any darkness."

In a letter sent home with students Wednesday, Baker said that he and Deacon Ed Petak visited third- through eighth-grade classrooms to openly discuss the accusation with schoolchildren.

"We were touched by their pertinent and thoughtful questions," Baker said in the letter.

Parishioners packed the church for an evening service, but members of the media were asked to leave.

Burnett, 63, denies the allegations that he repeatedly molested Dan Shanahan, beginning when Shanahan was 8 years old in 1978 and continuing for four years. On Wednesday, Shanahan said he met with detectives from the Will County state's attorney's office regarding the alleged abuse.

Shanahan, who now lives in Phoenix, Ariz., said he hopes that going public with his story will prompt others to come forward.

"I'm glad I did it. I wish it had been sooner," he said. "I believe there will be others. It may take a few weeks. It's a real hard decision. It takes a lot of guts to do it."

On Wednesday, parishioners from Mokena and Joliet expressed support for Burnett. Men who were altar boys at St. Mary said the priest never acted inappropriately with them. Some said they knew Shanahan since childhood and doubted the claim.

"I was with Father Burnett plenty of times alone, and he was nothing more than a gentleman. I can't say nothing bad about him," said Kevin Burke, who said he has known Shanahan since they were in first grade together.

Dan Moran of Mokena, another childhood friend of Shanahan's, said Burnett sometimes drove him home after serving a wedding together. Moran also voiced support for Burnett.

"He was nothing but a positive influence on me," Moran said.

In Chicago on Wednesday, members of the Survivors Network of those Abused by Priests called on Joliet Bishop Joseph Imesch and Chicago Cardinal Francis George to provide proof that other clergy monitored Burnett and the Rev. Daniel McCormack pending the outcomes of investigations.

Current policies in both Joliet and Chicago call for leaving accused priests in ministry while the matter is discretely investigated. The Archdiocese of Chicago said it plans to revise its policy to immediately remove a priest when a claim is made.

The Rev. Robert Sliva, president of the Chicago-based National Federation of Priests' Councils, said he supports Chicago's policy change.

"That's my position as well," Sliva said. "You don't have to announce the name, but you do have to take him out of his ministry right away."

The Joliet Diocese has not indicated that it plans to formally revise its policy, though Imesch did remove Burnett after Shanahan went public.

Church law addresses the issue of protecting an accused's right to due process, Sliva said, quoting a canon that reads, "Care must be taken, lest anyone's good name might be damaged by this investigation."

Civil authorities also weigh the potential damage of a sexual abuse allegation when determining the credibility of a claim, said Greg DeBoard, first assistant Will County state's attorney.

"There's a stigma that goes with that whether the allegation is proved to be true or proved to be false," DeBoard said. "If there is no other physical evidence, you're relying solely on the statement of the victim."

The Joliet Diocese Review Board is scheduled to meet soon to review the allegations against Burnett and recommend what action Imesch should take. Possibilities range from permanently removing him from serving as a priest to reinstating him to active ministry.

Contact Ted Slowik at (815) 729-6053 or at tslowik@scn1.com.