Pervert Priest's Parish Letter Shock

Times & Star [United Kingdom]
February 10, 2006

http://www.timesandstar.co.uk/news/viewarticle.aspx?id=329955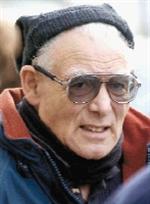 Fr. Piers Grant-Ferris



Published on 10/02/2006

Fr Piers Grant-Ferris PAEDOPHILE former priest Piers Grant-Ferris, who began a two-year prison sentence last month, has sent an amazing circular letter to former Workington parishioners in which he thanks them for praying for him.

The letter from the 72-year-old Benedictine monk, who was jailed when he admitted 20 indecent assaults on young boys, urges his Workington circle of "Dear Friends" not to try and get in touch with him by letter or telephone because he doesn't want fellow inmates at Armley Prison, Leeds, to become "envious of my apparent popularity."

The Times & Star can reveal that although the letter is on Grant-Ferris's personalised Ampleforth Abbey notepaper, it was sent out without either the permission or the knowledge of the Abbot of Ampleforth, Fr Cuthbert Madden.

Psychiatric reports were prepared on Grant Ferris before he was sentenced at Leeds Crown Court on January 26.

His offences took place while he was a teacher at Ampleforth in North Yorkshire between 1966 and 1975 and when police finally caught up with him in 2004, they found him in a state of denial.

The letter contains no expression of remorse or regret for his crimes, although he does ask his friends in the final paragraph to pray not just for him but for "my victims and all those whose lives we touch."

The letter from the former chaplain to Workington St Joseph's Catholic High School has been condemned by several Workington recipients, including a former friend, who is now writing to him in prison to tell him she never wants to her from him again.

The woman, who wishes to remain anonymous, was married by Grant-Ferris, who was a priest in Workington from 1978 until he retired in 1989.

She used to exchange personal cards at Christmas and Easter and she asked him to pray for her family when she lost her mother seven years ago.

She now holds him in contempt, even more so because of the tone of his letter.

She said: "This letter makes me feel sick and annoyed. The bit where he says he doesn't want to be seen as too popular makes me angry.

"I am not going to e-mail him on the Ampleforth address. I want a proper address for him, so I can say why I do not wish to stay in contact with him any more."

The controversial letter advises anyone who wants to make contact with Grant-Ferris to do so by phone or e-mail to the Prior of Ampleforth.

Fr Colin, the prior, said: "It was entirely a personal decision of his to send this out and it was done without reference to the Abbey and without the authorisation of Fr Abbot.

"I only became aware of it when I began receiving phone calls, letters and emails.

"This would suggest it was sent to a large number of people, though I don't know how many. Most of the replies I have received have been supportive of Fr Piers but understandably some, as you have gathered, have not been happy with its tone and content."

Grant-Ferris is the son of the late Sir Robert Grant-Ferris, a wartime fighter pilot and Conservative MP, known affectionately as the voice of the Vatican in Westminster. He was elevated to the peerage and was Lord Harvington at the time of his death.

His errant son, a former officer in the Irish Guards and an accomplished mountaineer and swimmer, was a popular figure in Workington and there have been no allegations that he abused children during his time in West Cumbria.

He was a member of the staff at the most exclusive Catholic prep school, Gilling Castle at Ampleforth, North Yorkshire.

He admitting abusing boys over many years.

It remains a matter of critical concern why he and another former Ampleforth teacher, Gregory Carroll, now also in prison for the abuse of pupils, were forgiven by the Ampleforth authorities.

They were removed from teaching and sent to West Cumbria to work as priests without the police being called in and without anyone being alerted to their known predatory instincts.

The authorities say it could not happen today.

In Grant Ferris's case, he was given the all clear by Basil Hume, Abbot of Ampleforth from 1963 to 1976 and later Archbishop of Westminster.

Carroll was jailed in September for four years - since reduced to three - for 15 counts of indecent assault and five of gross indecency.

He is now under investigation by Workington police looking in to allegations from a former Workington man, who alleges he was sexually abused by Carroll during his time as a priest at Our Lady and St Michael's Church, Workington, from 1987 to 2001.

When Carroll and Grant-Ferris have completed their prison sentences, the decision whether either will remain as members of the Ampleforth community will be taken in the Vatican.

The text of the letter from Piers Grant-Ferris to parishioners reads:

Dear Friends,

I have some sad news, which you may find distressing. It is about my case. Those of you who received a Christmas card from me may remember how I wrote inside it "I have spent much of my time this year climbing the hardest mountain of my life. Thank you for keeping a place for me in your heart." Your prayers and kind thoughts have done much to keep me calm, sensible and cheerful.

In the afternoon of yesterday I went to court for the seventh time since my case began in December, 2004. This time it was to be sentenced by the Judge. He gave me a custodial sentence lasting two years. I have been taken to Armley Prison in Leeds. I have been trying to prepare myself for this possibility ever since our annual retreat in August last year, when I decided to plead guilty on some of the charges.

When I am told the date of my release I will organise another circular letter to let you know when this is expected. In the meantime I am sure it would be wise not to try to get in touch with me by letter or telephone because I want to relate well to the other people in custody, and not make them envious of my apparent popularity.

If you would like to find out how my sentence is progressing, or where I am stationed, or how I am doing generally, the best person to contact is Father Prior on 01439 766 712 e-mail: prior@ampleforth.org.uk. Thanks.

While keeping a place for each other in our minds and hearts, may I ask you to pray for my victims and all those whose lives we touch. I think it is good to do this because our quality of life depends on the way we relate to other people, and in prayer to our Guardian Angel, Jesus, Mary, Joseph and all the Saints, so many of whom were prisoners, but unlike me, they had done nothing wrong.