Priest Admits Abusing Wife, Child
Ex-St. Virgil's Pastor Blames Alcoholism

By Peggy Wright
Daily Record
February 10, 2006

http://www.dailyrecord.com/apps/pbcs.dll/article?AID=/20060210/NEWS01/602100329/1005

MORRISTOWN -- The former pastor of St. Virgil's Roman Catholic Church in Morris Township admitted to a judge on Thursday that he beat his wife twice at the rectory in 2004.

William L. Winston, 52, also said that he cannot refute a boy's sexual abuse allegation because his memory has been blurred by alcoholism.

The cleric calmly pleaded guilty in state Superior Court to aggravated assault on his wife, Janet, and to abuse and neglect of a boy who now is 11. The child had told authorities that Winston touched his genitals in an inappropriate way when he was between the ages of 4 and 7, and Winston told Judge N. Peter Conforti on Thursday that he could not dispute the claim.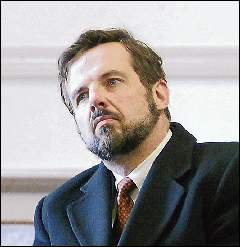 The Rev. William L. Winston, seen here in Judge Peter Conforti's courtroom in Superior Court in Morristown, admitted to aggravated assault on his wife, Janet, and to abuse and neglect of a boy who now is 11.
JOHN BELL / DAILY RECORD


Winston's arrest on domestic violence charges in November 2004 was made public; the abuse charge arose during a further investigation into his background and was publicly disclosed for the first time on Thursday, though Winston and his attorney were aware of the allegation.

A spokeswoman for the Roman Catholic Diocese of Paterson said the cleric will be given a stipend to live on and will be relocated from his lodgings at Assumption Church in Morristown to a secluded location.

Winston's admission to an act of abuse against a child immediately will be forwarded to the congregation for the doctrine of the faith at the Vatican in Rome, which examines admissions of wrongdoing by priests.

A decision on Winston's future within the church will be made at the Vatican, but it could include laicization, or defrocking, or an order that he serve the rest of his life in penance and prayer, said diocese spokeswoman Marianna Thompson.

Winston is a former Episcopal priest who was allowed to be ordained as a Catholic priest after he was married and had children. His move to the Roman Catholic Church was the result of a Vatican decision in 1981 to allow married Episcopal priests to become Catholic priests. In the past 25 years, only about 80 married Episcopal priests nationwide have received a "pastoral provision"to become Catholic priests, according to the Catholic Information Center in Washington, D.C.

Sentence suggestion

In exchange for Winston's guilty pleas, Morris County Assistant Prosecutors Karin Kelly-Weisert and Maggie Calderwood have recommended that he be sentenced to up to five years of probation, up to 180 days in the Morris County jail and receive up to 300 hours of community service. He also must attend Alcoholics Anonymous meetings daily, receive a psycho-sexual evaluation, undergo mental health treatment, and complete an intervention program for batterers.

Kelly-Weisert demanded --and Winston has agreed -- that he will make a public apology at his sentencing on April 7 to his 52-year-old wife and their children. The couple have four children, and Janet Winston had a child from her first marriage.

Janet Winston did not attend Thursday's hearing, and a restraining order bars her husband from contacting her.

With defense lawyer Michael Ascher asking him questions, Winston on Thursday told the judge that he was fueled by alcohol when he battered his wife between May 1 and May 2, 2004, and again on Nov. 1, 2004. In May 2004, he said, he was drinking and got into a verbal dispute with his wife. He said he grabbed her by the shoulders, shook her, and pushed her to the ground. He agreed with Ascher that he punched Janet Winston and said he cannot refute kicking her in the knee.

"Even after she was on the ground, you continued your violent assault on her?" Ascher asked, to which Winston replied yes.

Another assault

In November 2004, he said, he again was drinking and was enraged by the time his wife arrived home at the rectory. He admitted that an argument began and he threw her to the ground and kicked her more than once. He finally admitted that he abused a boy by inappropriately touching the child's genitals on occasions between February 1999 and February 2002.

After his arrest in November 2004, Winston was placed on paid administrative leave by the diocese and was forbidden from representing himself as a priest. Both William and Janet Winston have retained matrimonial lawyers, but no divorce action had been filed as of Thursday.

After his arrest, Winston went to live at Assumption Church, where he was an associate pastor before becoming pastor at St. Virgil's.

Ascher said Winston has completed one program for abusers and attends counseling and AA meetings regularly.

"The tragedy is, he served the community well in his vocation. He had a significant alcohol problem and that led to his downfall, so to speak,"Ascher said.

---

Peggy Wright can be reached at (973) 267-1142 or pwright@gannett.com.