Cardinal Offers Apology, Plea to Priests
Following Abuse Scandal, Francis Cardinal George Tells Priests to Come Clean with Misconduct

By Jay Levine
CBS 2
February 11, 2006

http://cbs2chicago.com/topstories/local_story_042171841.html

(CBS) CHICAGO Francis Cardinal George on Saturday offered an apology, and a plea to the 850 priests in the Chicago Archdiocese.

As CBS 2 Chief Correspondent Jay Levine reports, the apology was for his handling of his case of the Rev. Daniel McCormack, who was indicted on Friday on sexual abuse charges. He was accused of sexually abusing three young boys in his church rectory, and the indictment on Friday stemmed from allegations from one of the boys.

"Our response… was sorely inadequate," George said in a letter written last week and received by priests over the past few days.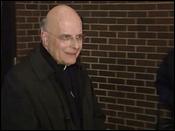 Francis Cardinal George
CBS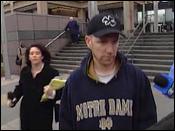 Rev. Daniel McCormack
CBS



"I apologize to each of you for not finding some way to at least provisionally remove McCormack," George added in the letter.

George has been under fire for allowing McCormack to remain in ministry after he was first picked up and investigated by police last summer on abuse allegations.

George also wrote: "I feel like I am walking on quicksand here. There is so much that I remain unaware of, yet I am, in the end, responsible for all."

He admits responsibility for the decision to return McCormack to ministry at St. Agatha parish, at 3147 W. Douglas Blvd. on the West Side, where McCormack allegedly abused again. That incurred the wrath of parishioners and near daily attacks from victims' groups.

At a news conference Saturday, the group Survivors Network of Those Abused by Priests revealed another victim's six-figure settlement with the archdiocese and named names.

"The issue is that Cardinal George's leadership has not created an environment that fosters openness and transparency," said Barbara Blaine of the Survivors Network. "Cardinal George's leadership fosters secrecy and the protection of his priests above the protection of children."

The cardinal has repeatedly apologized for his handling of the McCormack case. We have learned that he is planning an announcement on Monday of an independent investigation of what happened, a new policy of quicker action against priests who've been accused, and a new structure with a single person responsible dealing with all aspects of sexual misconduct.

But in his letter to priests, the cardinal, for the first time, went beyond the sex abuse scandal in an appeal to those who may be violating church policies.

"If there is any priest who is leading a double life - who is engaged in dishonest or sinful practices that destroy the church - he should for the sake of the church, come forward," George wrote. "If a priest cannot change and convert anew, he should leave his sacred office in the church."

What the cardinal was referring to were the requirements of chastity and celibacy. His clear message was that zero tolerance does not only refer to the abuse of children, but any sexual misconduct on the part of priests.

The goal is to strict adherence to the policy of zero tolerance enacted by U.S. bishops four years ago. Church leaders here acknowledge that would be the only way to restore confidence lost in the recent controversy.

The settlement discussed Saturday by the Survivors Network was from a Florida woman who accused three priests of sexual misconduct in the 1960s and 1970s. The settlement, reached in 2004, was worth $125,000.

The document shows the archdiocese offered the settlement after the woman claimed a priest molested her 40 years ago when she was 16 and that two other priests involved her in sexual encoungers when she was 18 and 19. The Archdiocese admits no negligence or wrongdoing in the settlement.

The woman, Linda Lee Burke, 56, of Manatee County, Fla., says she decided to go public now because of the way the archdiocese handled the allegations against McCormack.