Church Targets Abuse Bills
Puzzled Fitz-Gerald Based Her Measure on California's Plan

By Jean Torkelson
Rocky Mountain News [Colorado]
February 11, 2006

http://www.rockymountainnews.com/drmn/government/article/0,2777,DRMN_23906_4458958,00.html

Sen. Joan Fitz-Gerald was puzzled. In 2003, a sex-abuse bill in California passed without a peep from anybody. Her bill, based on California's, has provoked nearly all-out war with the Archdiocese of Denver.

So on Thursday morning she punched in a call to John Burton, the former California senate president pro-tem, who had carried the bill.

"Hey, John," Fitz-Gerald said. "Remember when you told me how your bill got passed 'zero to nothing' (overwhelmingly)? Did you ever have a letter read in every church in California about what a terrible thing you're doing?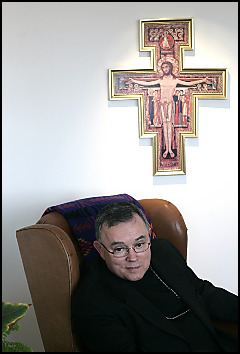 Charles Chaput says he wants to "protect the church from an unjust law."




"No? The Catholic Church in California didn't fight it at all? Well, I guess you can't give me any advice."

The conversation, which Fitz- Gerald recalled Thursday, reflects the pressure she's feeling from the Archdiocese of Denver.

Through the archdiocese's Web site, in a letter Archbishop Charles Chaput had priests read at every Mass last weekend, and in active participation in bill hearings, the church is trying to derail or at least amend two sex-abuse bills, especially Fitz-Gerald's Senate Bill 143. Chaput calls it prejudicial and even dangerous.

Fitz-Gerald's bill would open a two-year window that would revive old sex-abuse cases involving nonprofits and churches that otherwise would be beyond the statute of limitations. That could result in lawsuits and million of dollars in damages or settlements.

A bill that would lift the statute of limitations for such cases also has been introduced in the House. Another House bill is essentially dead.

The church argues any legislation should also cover public institutions, such as schools. The penalties for public entities are greatly restricted by the principle of sovereign immunity.

As part of its campaign, the Denver Archdiocese compiled 85 cases of public school teachers who have had their licenses revoked or denied for alleged sexual misconduct to show abuse happens in public settings, too.

"I want to protect the church from an unjust law, and I'm concerned that this legislation is aimed at the Catholic Church," Chaput said Thursday. "We want to be treated like everyone else, and we want children to be protected everywhere, not just in private institutions.

"If everybody had a stake in the bill, it would be amended to be fair and equitable," he said. "What I'm really calling for is a broad discussion of the issue, not one aimed at the Catholic Church."

Said Fitz-Gerald, "The Catholic Church may not be the entire universe on this but if the shoe fits, wear it." She added, "There are victims out there and we're finding it may take them many years to come forward."

Chaput is disturbed that Fitz-Gerald's bill would subject the church to ancient cases, but not allow it to argue in court that its treatment of sexual predators was considered appropriate for those times.

"Why would anyone want to take away the ability of a jury to analyze whether the defense is legitimate or not?" Chaput asked. "That seems unfair even of itself."

The California bill resulted in a flood of 800 cases - "the large majority" directed against the Catholic Church, according to one of the bill's crafters - as well as settlements in the millions. More than 500 cases are still pending.

Jeff Anderson, an attorney who helped craft California's law, also represents most of the plaintiffs in the Denver cases. He said he's represented more than 2,000 sex-abuse plaintiffs and "the only times I've ever lost cases is on statute of limitation grounds."

But Chaput wonders, "Should plaintiffs be able to bring lawsuits 80 years back?" He said he doesn't know the answer yet, "but if it's going to be done fairly and reasonably, it requires the involvement of the whole community in the discussion."

Until recently, Denver has been largely spared the huge scandals that have tarnished other dioceses. Now, the archdiocese faces 24 sex-abuse lawsuits involving Harold Robert White, who was removed from the priesthood, and the late Rev. Leonard Abercrombie, in incidents going back to the 1960s.

Chaput said the archdiocese offered to enter into mediation with all 24 lawsuits, "but we did not get back a positive response."

Anderson said he would entertain a settlement proposal, but not until the archdiocese puts all its documents on the table and "we're satisfied the secrets are out and the information is exposed."

Chaput thinks the church is being singled out in "an attempt to silence and punish her" for the church's stands on abortion, traditional marriage and other values issues.

Fitz-Gerald, a pro-choice Democrat and Irish Catholic, said Chaput's analysis "doesn't play."

She insists her bill is neutral. That said, "I don't know who else may have a sex-abuse problem, but I think they (the church) has a problem."

"I'm a Vatican II Catholic," Fitz-Gerald added. "I grew up strong and strict. I understand the power of the church. And when I talk to victims I understand some of these lives are pretty much ruined."

Said Chaput, "the solution to the sadness of sexual abuse isn't to unjustly target the church. That's why we're bringing these concerns to the attention of the people of our church, so they can judge for themselves."