Molestation Victims Who Killed Themselves Recalled

By Bianca Prieto
Rocky Mountain News [Denver CO]
February 13, 2006

http://rockymountainnews.com/drmn/government/article/0,2777,DRMN_23906_4462726,00.html

Barbara Blaine stood outside of the Cathedral of the Immaculate Conception on East Colfax Avenue during a small candlelight vigil Sunday evening to honor suicide victims.

She held tightly to pictures of boys who said Catholic priests had molested them, young men who later committed suicide.

Blaine, president of Survivors Network of those Abused by Priests, is in Denver for a few days in part to testify on behalf of Senate Bill 143 and its companion House Bill 1088.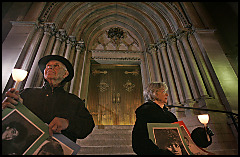 Evan Semon © News
Art Koldeway stands silent vigil with his wife, Agnes Koldeway, holding candles and pictures of suicide victims outside the Cathedral of the Immaculate Conception on Sunday. The couple are members of the Survivors Network of those Abused by Priests.



A Senate committee hearing is scheduled for today for SB 143.

The House and Senate measures would lift the statute of limitations for prosecuting sex abuse cases, even those decades old, involving churches and nonprofits.

The proposed law won't solve all the problems, but "it's a bill that makes a start to keep kids safe," Blaine said.

Blaine, who was raised in a Catholic home in Ohio, said she was molested by a priest as a child. The priest was never convicted.

She said she is disappointed in the leaders of the Catholic Church, who she believes aren't doing enough to protect children and stop the abuse.

"I think they should be the ones leading the charge," Blaine said.

About 10 SNAP members held the silent vigil in front of the cathedral, a symbol of the archdiocese in Colorado, they said.

Inside, the church was nearly full with parishioners attending the 6:30 evening Mass.

One of those standing vigil, Janet Patterson, stood with her back to Colfax Avenue.

In her hands were pictures of her son, Eric Patterson, and four others who had committed suicide. Priests had molested all five of them, she said.

"I don't consider that I've left the (Catholic) church," she said. "The church has left me."

Patterson traveled from Kansas to testify at today's committee hearing.

The priest who molested her son, Robert Larson, is scheduled to be released from prison next month after serving five years, she said.

At the conclusion of Mass, parishioners were told that "protesters" were in front of the building. They were told to "respond like Christians."

Parishioners gave the silent members of SNAP a few glances and some engaged in peaceful discussion about the proposed legislation.

Blaine, who stood in front of the open doors of the cathedral, watched as the people left the church.

"We're not the enemy," she said. "We're the victim."

prietob@RockyMountainNews.com or 303-892-5219