Retired Vatican Official Wanted on Sex Abuse Charges Returns to Canada

The Canadian Press
February 15, 2006

http://www.canada.com/topics/news/national/story.html?id=021c0dfb-d433-4dc6-8bd6-5f73f2f917d2&k=3842

OTTAWA -- A retired Vatican official wanted on sex abuse charges in eastern Ontario was returned to Pembroke, Ont., Wednesday to face them.

Msgr. Bernard Prince, 71, arrived in Montreal Tuesday from Rome, where he had been living, said Sgt. Kristine Rae-Cholette, an Ontario Provincial Police spokeswoman.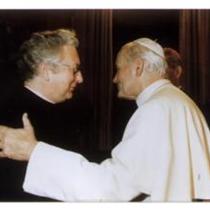 Monsignor Bernard Prince (left), accused of buggery and indecent assault on a 12-year-old boy in 1969, meets with Pope John Paul ll on this picture sent to a Wilno resident on his 25th anniversary in the priesthood.


"He was arrested by Customs and Immigration, they notified us that he was in custody, we went today to pick him up," Rae-Cholette said.

Prince is expected to appear in Pembroke court on Thursday for a bail hearing.

An arrest warrant issued last year accuses Prince of assaulting a 12-year-old altar boy in the town of Wilno, Ont., in the late 1960s. He eventually moved to Rome to work for the Vatican and was a close associate of Pope John Paul.

Prince was charged in October 2005 with buggery and indecent assault on a male.

Earlier this month, Cholette said the investigation extended into other parts of Ontario and even the United States.

Prince reportedly worked as a priest at Ontario parishes in Arnprior and Pembroke before taking a posting at the Apostolic Nunciature in Ottawa.

A spokesman for the Canadian Conference of Bishops said Prince also did a stint at their office in Ottawa. In Toronto, Prince worked for the Canadian office of the Pontifical Mission Society, which promotes Catholicism throughout the world.

In 1991, Prince left for the Vatican after being named secretary-general of the Pontifical Work for the Propagation of Faith. He held the position until 2004, when he retired.

A spokesman for Notre Dame University in Indiana said Prince received a master's degree in divinity there in 1976.

Rev. Peter Proulx of the Diocese of Pembroke has said he knew nothing about the allegations and that the diocese had never received any complaints about Prince.