'Accused Priests Shouldn't Be Removed from Parishes'

Galway Independent [Ireland]
February 15, 2006

http://www.galwayindependent.com/news/6411.html

Priests accused of abuse allegations should not always be removed from their parishes, while parishioners have a right to a voice in any decision to remove a priest.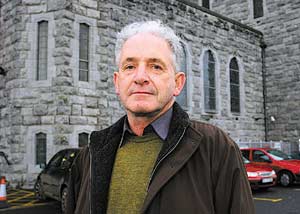 Fr Tony Flannery outside Galway Cathedral on
Monday. Photo by Hany Marzouk


That's according to Galway Novena Co-ordinator Fr Tony Flannery who spoke at the novena on Monday.

In his opening talk, Fr Flannery expressed concern at standard practice for dealing with priests who face allegations. "I know that abuse of children has been perpetrated by some priests and religious. It is important that those people be dealt with and removed from any possibility of causing further harm to children.

"What I am concerned about is the procedure that takes place when an allegation is made against a priest. Irrespective of the seriousness or authenticity of the allegation, the priest is immediately removed from his parish and a public statement is made at Sunday masses the following Sunday.

"This is effectively condemning the priest in public. From then on he is left, often with little or no support, to try to restore his good name. This would not happen with any other profession. Unfortunately priests do not have any union or support group to help them out in this situation," he said.

Fr Flannery said that removing priests from their parishes is not always appropriate. "If an allegation is made against a priest, perhaps an allegation that goes back 20 years or more, and there appears to be no current ongoing risk to children, then that priest should remain in his ministry until such time as the law takes its course. Furthermore the people of the parish have a right to have a voice in any decision as to whether or not that priest is withdrawn from that cinistry."

Speaking to the Galway Independent on Monday, Fr Flannery criticised calls for priests who have been cleared of abuse allegations, to be prevented from working with children in the future. He also claimed that priests are seriously affected by untrue allegations, and that people should not make judgements before the law has taken its course. "There is a danger that a new system of law could develop where allegations become judgements. We don't know how many of the allegations are false," he said.

President of the National Conference of Priests of Ireland Father John Littleton said that while the safety of children was paramount, it was not appropriate for priests to step aside in all cases. "The clergy feel very vulnerable because even if there is no evidence they can be forced to stand aside. Of course the safety of children has to be the most important thing and there is a church guideline that anyone working with children should have unsupervised access to a child, which should be adhered to."

Father Littleton also said that the manner in which allegations against priests were made public "had the potential to destroy people" and that priests good names couldn't easily be restored.

Father Littleton also said that most priests abhor abuse and want to see abusers punished appropriately.

However "One in Four", the charity that supports victims of sexual abuse, claimed that Fr Flannery's comments showed a lack of knowledge about child protection. "One in Four is concerned that Fr Flannery's comments display little understanding of the issues central to child protection. Where a credible allegation has been made there is automatically a risk to children. This threat can be deemed to be of low, medium or high risk following assessment and investigation, but no one can determine that no risk exists."

Speaking to the Galway Independent on Tuesday, One in Four Director Colm O'Gorman said he believed that a problem exists in how news of allegations is made public by the Church, but that allowing priests to remain in their positions wouldn't be acceptable. "I would agree that there is a real problem in the manner of announcements and bishops and church leaders need to pay close attention to that, but I don't think that the way to deal with it is to continue as if nothing has happened."

Mr O'Gorman said that if priests are cleared of allegations that every effort should be made to restore their good name.