Priest Accuses Local Diocese

By Darren Barbee
Fort Worth Star-Telegram
February 16, 2006

http://www.dfw.com/mld/dfw/news/13886209.htm

FORT WORTH -- Fort Worth Diocese records show that officials shielded eight priests accused of sexual abuse, didn't tell police of victims' allegations, and assigned and reassigned "known abusers," according to a sworn statement filed Wednesday in state district court.

The statement was prepared by the Rev. Thomas Doyle, a virulent critic of the church's handling of the national clergy sexual abuse crisis who reviewed the records last year.

"The Fort Worth Diocese has engaged in the patterned cover-up of clergy abuse by these eight priests," Doyle said.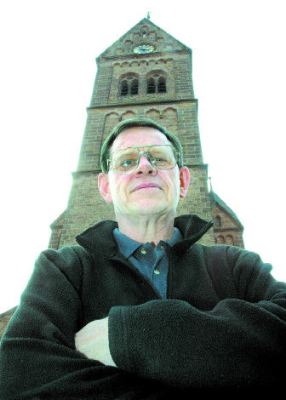 THOMAS DOYLE


A Fort Worth Roman Catholic Diocese official, who was faxed a copy of the statement by the Star-Telegram, had no comment Wednesday.

Doyle's statement, along with statements from eight victims and another expert, were filed Wednesday as part of ongoing legal efforts to unseal the files of seven priests accused of sexual misconduct. A hearing is set next week in state District Judge Len Wade's court to determine whether the files should be opened.

Doyle is one of a handful of people outside of the diocese or its employ who have been given access to the files. The Star-Telegram and The Dallas Morning News are seeking access to those files.

"What happened with the other cases shows a clear pattern of allowing known sexual predators to continue in active ministry," Doyle said in an interview Wednesday.

Doyle, a Roman Catholic priest who previously served as a church lawyer for the Vatican in the United States, has testified across the country in several sexual abuse lawsuits against Catholic priests and bishops. He said he reviewed the Fort Worth files last year as part of a case against the Rev. Thomas Teczar.

Two men accused Teczar of abusing them in Ranger when they were boys in the 1990s. Teczar has said he did not abuse them. Last year, the diocese settled the case out of court for $4.15 million. The diocese denied any wrongdoing as part of the settlement.

Doyle, who was hired by Dallas attorney Tahira Khan Merritt to review the files, also said the diocese had failed to provide "even fundamental psychological care to victims."

But diocese officials have said that anyone who came forward with credible allegations was offered counseling. Several victims have said in past interviews that they were offered such help.

Doyle said the problem was that victims had to go to counselors approved by the diocese.

In the past, diocese officials have said they are committed to protecting children and the vulnerable, and that they consider sexual abuse by a priest a betrayal of a sacred trust.

The priests whose files are being sought are the Rev. James Reilly, the Rev. James Hanlon, the Rev. Joseph Tu Ngoc Nguyen, the Rev. John Howlett, the Rev. William Hoover, the Rev. Philip Magaldi and the Rev. Rudolf Renteria.

Darren Barbee, (817) 390-7126 dbarbee@star-telegram.com