Vatican Official in Court for Sex Abuse Charges

CTV [Canada]
February 16, 2006

http://toronto.ctv.ca/servlet/an/local/CTVNews/20060216/bernard_prince_060216/20060216?hub=TorontoHome

A retired Canadian priest who once held a senior post at the Vatican appeared in a Pembroke court Thursday on sexual abuse charges.

Monsignor Bernard Prince appeared briefly and was released from custody with conditions.

Prince was charged last October with buggery and indecent assault on a male. He is accused of assaulting a 12-year-old altar boy in the town of Wilno in the late 1960's.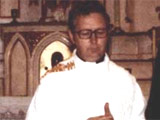 Monsignor Bernard Prince is seen in this image taken during a wedding in 1979. (image: The Globe and Mail)


The 71-year-old was arrested Tuesday by customs officials in Montreal after arriving from Italy, where he had been living for several years.

Ontario Provincial Police (OPP) say they've also laid 14 more charges for alleged incidents involving six people from the late 1960's to early 1970's.

The OPP issued an arrest warrant for Prince. According to police in early February, the retired priest, who lives near Rome, Italy, did not initially respond to the warrant. Investigators were weighing their options at the time for trying to extradite Prince.

However, it appears Prince voluntarily came to Canada to face the charges. His next court appearance is scheduled for Feb. 28 in Pembroke.

Ordained in 1963 at St. Mary's Church in Wilno, Ont., Father Prince left for the Vatican in 1991. He was secretary general for the Pontifical Society for the Propagation of the Faith, a position he held until 2004, when he retired.

The case is the latest of many sex-abuse allegations to shake the Catholic Church and one of the first involving top levels of the Vatican hierarchy.