Archdiocese Urged to Support Changing Laws
Victims Would Get More Time to Sue

By Patricia Montemurri
Detroit Free Press
February 21, 2006

http://www.freep.com/apps/pbcs.dll/article?AID=/20060221/NEWS05/602210301/-1/BUSINESS07

National leaders of the Survivors Network of those Abused by Priests urged leaders of the Catholic Archdiocese of Detroit on Monday to drop their opposition to changing Michigan laws so victims of priest sexual abuse can have more time to sue for damages.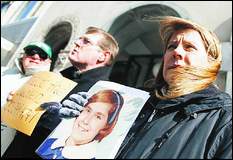 Sam Trentacosta of Detroit, left, demonstrates with Barbara Blaine of Chicago, a cofounder of a priest-abuse survivors group, on Monday in front of the Archdiocese of Detroit. (DAVID P. GILKEY/Detroit Free Press)



Barbara Blaine of Chicago, a cofounder of the organization, and David Clohessy of St. Louis, SNAP's national director, slid a letter under the door of the archdiocese's chancery office on Washington Boulevard in downtown Detroit.

In the letter, the two asked Detroit Cardinal Adam Maida to endorse or stay neutral on possible legislation that would give victims of sex crimes more time to bring lawsuits seeking monetary damages for long-ago abuse.

"We think kids benefit, Catholics learn and victims heal" when clergy sex crimes are exposed in court action, Clohessy said.

SNAP also asked the archdiocese to give victims a regular forum in church publications, such as the Michigan Catholic and parish bulletins, to write about their abuse.

State Rep. Paul Condino, D-Southfield, said Monday that he believes the Legislature will hold hearings this year on his proposal to change the statute of limitations to give victims more time to sue.

Msgr. Ricardo Bass, the archdiocese official who handles clergy abuse matters, said in a statement that "the statute of limitations has served our society well in protecting the rights of everyone, especially after a long passage of time."

Catholic leaders say the church locally has reached out to victims, cooperated with law enforcement to remove predatory priests and trained thousands of employees and volunteers on identifying abuse and maintaining safe environments.

Currently, Michigan law contains a statute of limitations on bringing civil lawsuits for past abuse. In most cases, the law requires a victim to file a suit within two to three years of the abuse. If the abuse happened when the person was a child, the victim has until one year past an 18th birthday to sue.

SNAP's cause got heightened visibility in January, when now-retired Detroit Auxiliary Bishop Thomas Gumbleton broke with the Catholic hierarchy and urged officeholders to pass laws to give victims more time to sue. Gumbleton lobbied Ohio legislators, who are considering such a change, and he also revealed that he had been inappropriately touched by a priest when he was a teenager.

In Michigan, several lawsuits have been shot down by the state Court of Appeals, which ruled the suits were filed too late.

Contact PATRICIA MONTEMURRI at 313-223-4538 or pmontemurri@freepress.com.