Pope Names Two Americans As Cardinals

By Jay Lindsay
The Associated Press, carried in In-Forum [United States]
February 22, 2006

http://www.in-forum.com/ap/index.cfm?page=view&id=D8FU72F80

BOSTON

Two American archbishops involved in the response to the clergy sex abuse scandal - one praised for his efforts to heal wounds in the Boston Archdiocese and the other now overseeing worldwide abuse claims - were among 15 men named cardinals Wednesday by Pope Benedict XVI.

Sean P. O'Malley, 61, became archbishop in Boston three years ago after Cardinal Bernard Law was pressured to resign over his handling of priest abuse allegations.

William Levada, 69, had been spiritual leader for Catholics in Portland, Ore., from 1986-1995, and then in San Francisco until last year, when he was named to the most influential Vatican post ever held by an American - prefect of the Congregation for the Doctrine of the Faith, the position last held by the current pope.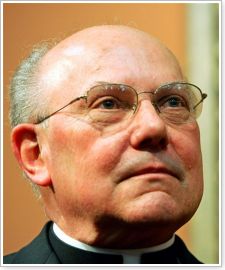 Archbishop William J. Levada answers questions after being named by Pope Benedict XVI as prefect of the Congregation for the Doctrine of the Faith for the Catholic Church, the highest post held by an American prelate, during a news conference in San Francisco, in this Friday, May 13, 2005 file photo. Pope Benedict XVI named 15 new cardinals during the weekly general audience at the Vatican Wednesday Feb. 22, 2006, including Archbishop Levada and prelates from Italy, Poland, the Philippines and Hong Kong, adding his first installment to the elite group of churchmen who will elect his successor. The pontiff read aloud the names during the audience and said they would be elevated during a ceremony at the Vatican on March 24. (AP Photo/Eric Risberg)


At the Vatican, Levada's role includes reviewing abuse allegations against priests worldwide.

Priest abuse victims had criticized the appointment last year, saying Levada had done a poor job dealing with the abuse crisis at home. The Survivors Network of those Abused by Priests said he was "slow to act, harsh to victims and committed to secrecy" in responding to molestation claims.

Levada has said the criticism was off the mark and his experience dealing with the issue was an advantage for the church.

Catholic experts have praised Levada for being able to uphold orthodox church teaching without creating controversy.

He served on a commission that oversaw revisions to the discipline plan U.S. bishops adopted for sexually abusive priests in 2002, with changes meant to protect clergy due process rights. He also served on a task force to address the debate over whether politicians who support abortion rights should receive Communion; the panel left it to individual bishops to decide.

Last month, he returned to the U.S. for a seven-hour deposition on abuse allegations in the Portland Diocese, which declared bankruptcy in 2004, citing sex abuse lawsuits seeking more than $155 million in damages.

In Boston, O'Malley negotiated an $85 million settlement with 554 people who had been molested by priests, and started a financial reorganization of the archdiocese that included closing more than 80 churches.

He was praised for his compassion and willingness to acknowledge the mistakes made by the church, but the church closings that followed sparked angry protests.

A Capuchin Franciscan friar, O'Malley has been known for a low-key style, including wearing his order's simple brown robe and sandals.

He lives in the rectory of the city's Cathedral of the Holy Cross and sold the opulent mansion that had been used by his predecessors to raise money. He has also been known for his conservative stand on church doctrine, including opposition to gay marriage.

O'Malley previously led the neighboring Diocese of Fall River through a scandal in the early 1990s involving pedophile priest James R. Porter, convicted of molesting dozens of children. He also spent nine months at the Diocese of Palm Beach, Fla., where his two immediate predecessors resigned after admitting they had molested minors.

The 15 men named Wednesday will be elevated during a ceremony at the Vatican on March 24. Twelve of them, including the two Americans, are under the age of 80 and thus eligible to vote in a conclave to select Benedict's successor.

Prior to Wednesday's announcement, there were 178 cardinals.