Pope Names Archbishop O'Malley a Cardinal

WHDH
February 22, 2006

http://www1.whdh.com/news/articles/local/BO14715/

BOSTON (AP) -- Boston Archbishop Sean O'Malley's ascension to cardinal Wednesday was no surprise, considering that every Boston archbishop since 1911 has been named cardinal.

But a recent history of scandal and upheaval cast O'Malley's appointment in a different light. His elevation Wednesday was seen as a Vatican validation of Boston's continued importance, as well as of O'Malley's handling of the sex abuse crisis and the church's financial problems.

That work has been so painful to O'Malley that he's acknowledged asking God to "call me home and let someone else finish this job."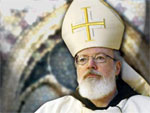 Cardinal Sean O'Malley


"He's been the most beleaguered of any archbishop in the United States," said Stephen Pope, a theology professor at Boston College. "It's like a battlefield promotion."

"It's a vote of confidence in O'Malley, and the archdiocese itself," said Joseph Kelley, a theology professor at Merrimack College.

O'Malley was among 15 new cardinals named Wednesday by Pope Benedict XVI, and one of two Americans. The other was Benedict's successor at the Congregation for the Doctrine of the Faith, Archbishop William Levada.

The men will be elevated during a ceremony at the Vatican on March 24.

On Wednesday, O'Malley said he was "deeply humbled and honored" to be named a cardinal, and said it was a sign of the Boston church's importance to the pope and worldwide church.

"The reaction that I've seen from our people and our priests is one of enthusiasm and joy," O'Malley said. "I think it has been good news for the archdiocese and that's one of the reasons that gave me enough courage to accept this challenge."

As a cardinal, O'Malley's most important task is electing a new pope. Cardinals are also the pope's closest advisers, with a cardinal technically a "member of the papal household," Stephen Pope said.

The increased influence comes with the potential for increased worldwide demands on his time and expertise. O'Malley, for instance, speaks fluent Spanish and Portuguese and is considered an authority on the Latin American church, Kelley said.

On Wednesday, O'Malley said his new duties won't interfere with his work in Boston, which includes the final stages of the financial reorganization that called for unpopular church closings, and negotiations with a new group of about 200 alleged sex abuse victims.

In July 2003, O'Malley took over the 2.1 million-member Boston archdiocese, the nation's fourth-largest. Within two months, he negotiated an $85 million settlement with 554 people who had been molested by priests and was praised for his compassion.

The reaction was different in May 2003 when he began the reorganization of the archdiocese that included closing more than 80 churches. He said the changes were needed because of long-term declines in Mass attendance, a shortage of priests and deteriorating church buildings that would cost millions to repair. Angry parishioners complained healthy churches were being shuttered and some organized around-the-clock sit-ins, which continue at six churches.

O'Malley said he was so pained by closing churches that he acknowledged in a November 2004 letter to protesters, "At times I ask God to call me home and let someone else finish this job, but I keep waking up in the morning to face another day of reconfiguration."

O'Malley has been criticized for failure to fully explain to parishioners why their churches had to shut down. More recently, his reassignment of a few popular priests created problems with parishioners. And as he faces a new round of clergy abuse lawsuits, Mitchell Garabedian, an attorney for the new group of victims, said O'Malley hasn't acted with sufficient urgency to settle their claims.

"Many victims consider it a slap in the face that Archbishop O'Malley has been rewarded for a job not very well done," Garabedian said.

But parishioner Jim Marotta, 52, of Melrose, said O'Malley's ascension reflects the good work he's done during difficult times.

"This city was hurting really bad, Catholic-wise," said Marotta, a data processing manager. "I think a lot of us were having some problems, and then the closing of the churches didn't help at all, and yet the man has still kept it all together."

O'Malley, 61, succeeded Cardinal Bernard F. Law, who resigned after his failure to remove abusive priests from ministry.

O'Malley has taken conservative stands on church doctrine, including vigorous opposition to gay marriage and abortion. A Capuchin Franciscan friar, O'Malley has been known for a low-key style, including wearing his order's simple brown robe and sandals. He lives in the rectory of the city's Cathedral of the Holy Cross rather than an opulent mansion, used by his predecessors, which he sold to raise money for the archdiocese.

On Wednesday, O'Malley said he'd likely asked to be called, "Cardinal Sean," a continuation of his unassuming style.

O'Malley is no "climber" and won't play the Vatican's political games, Kelley said. His august new title won't likely have much affect on his job in Boston, he said.

"He has not been a high profile person," Kelley said. "I don't think it will change."