N.M. Priest Charged with Sexual Misconduct

By Anne Constable
The New Mexican [Raton NM]
February 24, 2006

http://www.freenewmexican.com/news/39903.html

The Rev. George Silva, 73, formerly a priest at two Catholic parishes in Raton, was arrested Thursday by FBI agents on charges of sexual misconduct involving a minor.

A federal grand jury in Albuquerque indicted Silva on Wednesday on four counts involving transporting a boy under the age of 16 from New Mexico to France and Portugal for criminal and illicit sexual activity.

The allegations against Silva were first reported to the Archdiocese of Santa Fe last June,. The allegations set in motion its Sexual Abuse Policy, an archdiocese news release says.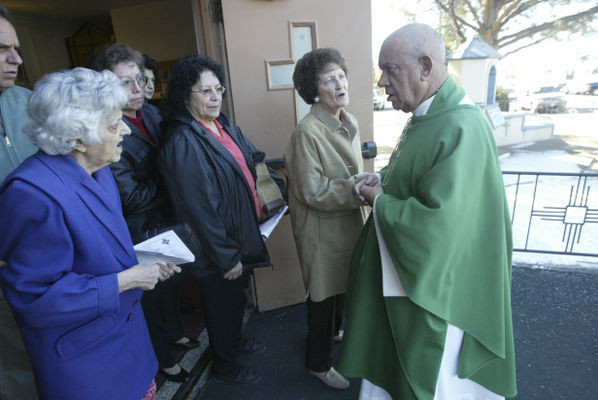 Father George Silva greets parishoners as they exit from Sunday morning service at St. Joseph's Church.


The archdiocese informed law-enforcement authorities of the charges and immediately placed Silva on administrative leave pending results of an internal investigation.

The archdiocese says it found "credible evidence" to support the allegations, and Silva was placed on restricted status, meaning he was not permitted to carry out priestly duties or even to wear clerical attire. According to Dr. Wayne Pribble, the victim's assistance coordinator for the archdiocese, Silva continued to live in Raton, where he was arrested.

At a celebration of Mass in Raton last October, Archbishop Michael Sheehan informed parishioners of the finding that Silva had violated policies of the archdiocese.

Silva, who is originally from Hawaii, was ordained to the priesthood in 1997 at St. Francis Cathedral in Santa Fe. He had served as a Christian Brother for 17 years prior to his studies for the priesthood at Holy Apostles Seminary in Cromwell, Conn. As a high-school teacher, he taught in Hawaii and Washington state.

Before his assignment to St. Joseph and St. Patrick churches in Raton, Silva was a priest at St. Francis Xavier parish in Clayton, N.M.

The archdiocese's sexual-abuse policy, adopted in 1990, was one of the first in the U.S. to require that complaints of sexual abuse of a minor be immediately reported to law-enforcement authorities. Since then, thousands of volunteers, paid personnel and parents have participated in sexual-abuse and harassment workshops, according to the archdiocese. The policy was last revised in 2003.

Contact Anne Constable at aconstable@sfnewmexican.com