Suit Filed against Vianney President
Rev. Robert Osborne Expresses Shock, Denies and Wrongdoing

By Don Corrigan
Times [St. Louis MO]
February 24, 2006

http://www.timesnewspapers.com/stories/20060224/vianney.html

Rev. Robert Osborne, the president of St. John Vianney High School in Kirkwood, temporarily stepped aside as the school's head administrator on Tuesday after a lawsuit accused him of inappropriate physical touching and sexual behavior with a student.

Osborne expressed shock and disbelief at the allegations. The 73-year-old Marianist priest denied any wrongdoing and vowed to fight the lawsuit.

"The majority of predators profess their innocence in these situations," said David Clohessy, a spokesperson for Survivors Network of those Abused by Priests (SNAP). "If Father Osborne was shocked, it would only be because his superiors did not fully inform him of the allegations made against him earlier as this has unfolded.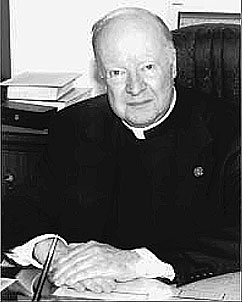 Rev. Robert Osborne, President of St. John Vianney


"I do know that a lot of people at Vianney and in the community are in shock," added Clohessy. "It's so hard for people to accept that a good teacher and a good administrator can also be a predator."

At a sidewalk news conference outside of the headquarters of the Marianists, 4425 West Pine in St. Louis, members of SNAP outlined details of the civil lawsuit.

The suit brought by a teenager, who has been under the care of a therapist, alleges that the president of St. John Vianney High School recently and repeatedly "sexually, physically and emotionally abused him."

Osborne told students about the allegations and his departure at a school assembly on Tuesday afternoon. Letters were sent out to notify the parents of the 700 boys at the school about the charges.

"The Vianney principal, Larry Keller, has taken over for Rev. Osborne as chief administrator at the high school until this is resolved," said Diane Guerra, a spokesperson for the Marianist Order. "Bob Osborne had an assembly with the students in which he explained what has happened.

"Principal Keller says there have been no negative e-mails or negativity carried into the school," added Guerra. "Vianney officials made counselors available to the students to talk about what has happened, but no students have taken advantage of that. Things are pretty much back to normal."

According to the lawsuit, Osborne used "his positions to gain the trust" of the now teenaged victim, "coercing him to drink alcoholic beverages, making sexual comments to him, observing and attempting to observe and photograph him when he was undressed, hugging and kissing him, and making other overt and covert sexual contact with him."

The victim and his father use pseudonyms in the lawsuit. According to SNAP, two adults - the boy's relative and his therapist - reported Osborne's abuse to the Marianists and requested that he be suspended or kept away from youngsters. Clohessy of SNAP said that the Marianists apparently took no action.

"Some concerns were brought to our attention on Feb. 3," said Guerra. "They were then brought to the attention of Brother Stephen Glodek, head of the Marianist Province of the U.S. He advised Bob Osborne to stay away from the boy and a meeting was set up with the father.

"We set up the meeting and the father canceled," said Guerra. "The therapist called up angry that Osborne had not been removed. In all of this, there was never mention of inappropriate touching or anything sexual. Then we were hit with the lawsuit.

"I think it's pretty hard to say that we were dragging our feet on this," added Guerra. "All this took place in a matter of two weeks. We have procedures that we follow. We don't just listen to someone make charges and then send the principal of a high school away."

Osborne took his vows in 1955 and was ordained in 1966. He first served as acting president of Vianney, located near the northwest corner of I-44 and Kirkwood Road, in 2002. Prior to that, Osborne worked at Chaminade High School and served as a parish pastor.

Marianist spokesperson Guerra said some of the charges made are outrageous and clearly lacking in credibility.

"There have been television reports and charges by the attorney that the Marianists kept Rev. Osborne in his position because he was a good fundraiser in Vianney's current capital campaign," said Guerra. "That is astonishing. It's very upsetting. It is insulting to suggest that the Marianist Order, with its long and respected tradition in education, would not put the safety of children first."

SNAP's Clohessy said if there were any apologies due, they were not in order for the Marianists.

"The attorney in this case is very cautious and conscientious, and not prone to exaggeration," said Clohessy. "The attorney had a sound basis for making the statements that he did."

Clohessy added that this is at least the sixth time in the last few years that a local Marianist has been named as an accused pedophile. The others include Fr. William Christiansen, Brother John Woulfe, Brother William Mueller, Fr. Daniel A. Triulzi, and Brother Tony Pistone.

The latter two - Triulzi and Pistone - were exposed, sued and suspended last year. Christiansen and Woulfe are facing a lawsuit that was heard by the Missouri Supreme Court last fall. No decision has been made at this point.