Bishop 'Hurt' by Criticism

By Dan Lavoie
The Herald News
February 24, 2006

http://www.suburbanchicagonews.com/heraldnews/top/4_1_JO24_BISHOP_S1.htm

JOLIET — Joliet Bishop Joseph Imesch said he is "deeply hurt" by Daily Southtown columnist Tim Placher's assertion that the diocese cannot move beyond its history of sexual abuse with Imesch at the helm.

Placher says he was abused in 1979 by the Rev. Richard Ruffalo at the priest's home in Las Vegas. In a Thursday column, Placher made his allegation against Ruffalo and criticized Imesch's handling of abusive priests.

For years, Imesch has been criticized by victims' advocates who say he has had a slow and coldhearted response to dozens of sexual abuse allegations in the diocese. He also transferred several priests accused of sexual abuse to new ministries where they had opportunities to molest more children.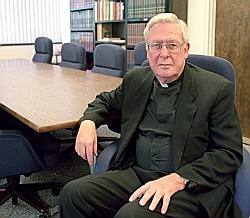 Bishop Imesch: Scolded over his leadership, handling of allegations against priests.


Imesch — who took over the diocese the same summer in 1979 when Placher alleges the abuse occurred — accused Placher of timing his revelation to exact the most personal damage against the bishop.

"For 26 years, he never said anything," Imesch said of Placher. "And now (he comes out publicly) — is it because of the publicity around me? It sounds like he wants to smear my name."

Placher is the fourth man to level abuse allegations against Ruffalo, a former priest at several area parishes, including St. Mary's in Park Forest and St. Raymond's and Holy Cross in Joliet.

Ruffalo suffered a stroke and died in 1997, a year before the initial abuse allegation.

Carpet installer Jimmy Komp, 41, first accused Ruffalo of abuse in a 1998 lawsuit. The former altar boy alleged Ruffalo groomed him for four years before repeatedly molesting him while a student at St. Mary's Catholic Church in Park Forest.

The diocese settled that case out of court for $37,500, Komp said.

Brothers John and Jeff Welch filed a suit in 2003 alleging that Ruffalo and two other priests molested them in the 1960s while they were students at St. John the Baptist in Winfield.

Although Placher and Imesch have known each other for years — the bishop even attended Placher's mother's funeral — Placher did not contact Imesch about the abuse allegations before writing his column.

When the Southtown contacted Imesch on Wednesday to discuss Placher's column, Imesch refused to listen to Placher's apparent call for Imesch's resignation.

"I obviously wish he would have come to me," he said. "Perhaps he can't. I do not understand. I am baffled by this and deeply hurt by it."

According to a 2004 diocese report, 27 of the 773 priests to serve there in the past five decades have been accused of sexual misconduct. At least four other priests have been publicly accused since the report was issued. There were 113 people who made abuse claims before the report, the report said.

Karl Maurer, vice president of the conservative Catholic Citizens of Illinois, said he wasn't surprised by what he called Imesch's "arrogant" response to Placher's column.

"For those of us who know him, that's basically his pattern: 'Poor me,'" Maurer said. "As far as sexual abuse goes, the Joliet Diocese has been a debacle."

The diocese has offered counseling to all victims of sexual abuse. Imesch offered Wednesday to speak to Placher personally about the allegations, as he has with other victims.

"They have done everything possible that I know of," said Sister Mary Frances Seeley, a Franciscan who serves as the diocese's victim assistance minister. "I know (Imesch) has interrupted meetings to talk to victims."

Sister Judith Davies, diocese chancellor, said that the diocese can only investigate the cases it knows about. If Placher had come forward earlier, perhaps the diocese could have investigated before Ruffalo died.

"It puzzles me that (Placher) could be angry at the bishop if the bishop didn't know what was going on," Davies said. "I've been working with the bishop for 16 years, and he always deals with things as they become known, though he is often painted otherwise."

Imesch said he was acquainted with Ruffalo, but didn't know him personally. Imesch was aware Ruffalo owned a home in Las Vegas, but said he didn't know Ruffalo took young boys there.

Imesch denies Placher's claim that Ruffalo was "notorious around the diocese for his Vegas trips."

"If it was known, I certainly didn't know it," the bishop said. "Nobody ever mentioned to me that he was taking boys to Las Vegas."