Vianney Priest Faces Another Student Accusation

By Robert Patrick
St. Louis Post-Dispatch
February 24, 2006

http://www.stltoday.com/stltoday/news/stories.nsf/stlouiscitycounty/story/CFE3F95747CAF52A86257120001C102A?OpenDocument

Another St. John Vianney High School student has come forward with complaints of "inappropriate behavior" by the Rev. Robert Osborne, Kirkwood police and the Marianists said Friday afternoon.

Osborne temporarily stepped down as president of Vianney on Tuesday, after the father of a teen sued him, Vianney and the Marianists claiming Osborne had used his position to gain the boy's trust, then "sexually, physically and emotionally" abused him.

Osborne has repeatedly denied those allegations.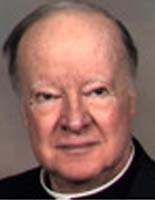 Robert Osborne
(Handout)


Kirkwood Police Capt. Diane Scanga said police received the new complaint Thursday but had not yet completed their investigation.

Scanga said the complaint dealt with a claim of "inappropriate behavior" by Osborne, and that initial indications were that that alleged behavior does not appear to be criminal.

The department asked that anyone with additional information to call 314-822-5877.

Asked about the latest complaint in an interview Friday with the Post-Dispatch columnist Bill McClellan, Osborne said he was aware of one student who told a counselor this week that he had been given a drink of alcohol in Osborne's office.

Although Osborne said there is alcohol in his office, he added that he would never allow students to drink it.

Counselors were in the school Wednesday to deal with concerns over the accusations against Osborne.

Earlier in the week, Scanga said that police received the first complaint about Osborne on Feb. 18. That complaint, she said, focused on a priest at Vianney accused of giving wine to a minor and not on sexual allegations.

Police characterized Thursday's complaint as "a similar allegation" to the earlier one.

Ken Chackes, a lawyer for the father suing Osborne, said his client filed the Feb. 18 complaint and that allegations reported in it to police were "clearly sexual."

Marianist spokeswoman Diane Guerra said that she was also aware of a new complaint but could not immediately comment.