Lawyers Team up to Take on Sex-Abuse Cases

By Janet I. Tu
The Seattle Times [Washington]
February 27, 2006

http://seattletimes.nwsource.com/html/localnews/2002831395_lawyers27m.html

One is the product of a Catholic home, parochial schools and a Jesuit college. He's cool-headed and analytical, speaking in measured tones.

The other is the grandson of Jewish immigrants from Russia. He's demonstrative, advocating for clients in passionate torrents.

Together, Seattle-area attorneys Michael Pfau and Timothy Kosnoff represent the vast majority of sex-abuse victims who've sued the Roman Catholic Church in Seattle and in Spokane, where the diocese has filed for bankruptcy.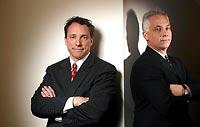 Seattle-area attorneys Michael Pfau, left, and Timothy Kosnoff represent most of the sex-abuse victims who've sued the Catholic Church in Seattle and Spokane.
ELLEN M. BANNER / THE SEATTLE TIMES


Their work as a team began just three years ago but already has been highly successful, including a recent settlement proposal from the Spokane Diocese that goes beyond a sizable dollar amount.

The nearly $46 million offer includes concessions victims considered crucial: from a written apology from the church to forums for them to speak and write about their ordeals and a promise from Catholic officials to stop calling them "alleged" victims.

Certainly, the two lawyers have detractors. Particularly in Spokane, there is resentment among some parishioners who believe the lawyers are profiting while the Catholics may lose their parishes and schools to pay settlement costs.

But to their clients, Pfau and Kosnoff are driven by a larger cause.

"They're real advocates of sexual-abuse victims," said Cheryl Corrigan, widow of a Spokane man, Tim Corrigan, who killed himself the same day he told her about being abused by former Spokane priest Patrick O'Donnell. "They're personally committed to their clients."

Michael Corrigan, Tim's brother, has been particularly impressed by Pfau's tenacity. In taking depositions from church officials, Pfau asked "the questions all of us wanted to ask," Corrigan said. "Go, Mike!"

And colleagues talk of Kosnoff's investigatory zeal in personally tracking down errant priests — all the way to Ireland in one case.

"He would just sort of show up on their doorsteps and say: 'I'd like to talk to you,' said bankruptcy attorney James Stang, who worked with Kosnoff on the Spokane cases.

"And apparently some of them did."

Catholic education

Pfau, 41, grew up in a devout Catholic family in Milwaukee.

He attended a Catholic grade school, a Jesuit high school and the Jesuit-run Boston College. It was only after college, when he came to Tacoma to work with abused children through the Jesuit Volunteer Corps, that he got to know many non-Catholics.

It was his Jesuit education, Pfau says, that instilled in him a sense of social justice and has helped him empathize with abuse victims and their families.

"I understand what the religion taught, the tenets involving social justice and honesty. And I think that helps me understand how badly betrayed the victims and their families feel."

Kosnoff, 52, says he developed a skepticism of organized religion at an early age.

It galls him, he says, when "powerful institutions are able to shield this kind of activity from the public eye under the guise of freedom of religion."

Shortly after graduating from Indiana University, Kosnoff went to work for a farm-laborers organization, where he saw the group's lawyers taking on big companies. That got him into law.

"I saw this David and Goliath play out," he said. "It inspired me."

But it wasn't until the mid-1990s, after stints as a criminal-defense lawyer and as a prosecutor, that he and another attorney represented a man claiming abuse by a Mormon high priest. The case eventually settled in Portland for $3 million.

"I became hooked on learning why this could happen in the religious culture."

By 2002, Kosnoff, a sole practitioner, was specializing in such cases, and Pfau had done such work through his law firm, Gordon, Thomas, Honeywell, Malanca, Peterson & Daheim, where he is a partner.

The two lawyers met for the first time that year at a hearing involving James McGreal, a Seattle priest who had been accused of molesting numerous boys.

Work together

At a coffeehouse across from the courthouse, Pfau and Kosnoff talked for hours.

The two agreed they wanted to avoid the acrimony that developed among some lawyers suing the Boston Archdiocese.

Now, it seems like "they've worked together forever," said Stang, the bankruptcy attorney. "They seem very, very connected" in their thought process and strategy.

Both say they are risk takers. But where Kosnoff describes himself as optimistic and "excessively exuberant" at times, Pfau is more cautious and skeptical. "I try to step back and remember that in addition to emotion and passion, these people also need very clear thinking and lawyers to make good decisions."

Clients credit them both with being good listeners and communicators.

"Any time you need them, you can e-mail or call. I've never had them not call back within 24 hours," Cheryl Corrigan said.

Mark Mains, a plaintiff in the Spokane cases, credits Pfau and Kosnoff with understanding how strongly victims felt about the parts of the proposed settlement that didn't involve money.

Those provisions — from a written apology to victims and their families, to letting victims tell their stories in the diocesan paper — distinguish the proposed settlement from other such cases across the country.

The lawyers got that these terms were to be negotiated first — even before the money, Mains said.

Critics

But there are some who believe they've gone too far.

Sharon Clizer, principal at the Spokane Diocese's Holy Family Catholic School, says she feels for those who were abused. But she also believes parishioners and parochial students are being asked to pay dearly for something that wasn't their fault.

"Money will not heal the victims. How much is enough to make them feel better? Oh, yes, we know who will feel better — the attorneys who will be smiling as they write out a check for their kids' college or that new boat or car."

She is also afraid for her school. "We have lived with a shadow and threat over our head wondering how much this will harm our schools," Clizer said. "It has been insane the kinds of paperwork the victim's attorneys have requested. ... Can't someone stop this insanity?"

Michael Patterson, an attorney for the Seattle Archdiocese, said that while Pfau and Kosnoff have settled past cases for reasonable amounts, in some pending cases they "are asking for amounts that are substantially higher than that. There's really no rational reason for it."

It's true that Pfau and Kosnoff are making good money from the cases, though neither will say exactly how much. Together they represent 70 victims in Spokane and about 30 in Seattle; Pfau by himself has almost 90 others in Seattle, some of whom already have settled.

Typically, attorneys take such cases on contingency, earning between 30 and 40 percent of any final settlement or jury award, if there is one. That's a relatively high cut because such cases are complex and risky, said Jeff Anderson, an attorney in St. Paul, Minn., who has filed lawsuits against more than half of the country's Catholic dioceses. And they require emotional commitment, too, he said, because abuse victims can be "so wounded that they become difficult to work with and difficult to protect."

When a diocese declares bankruptcy, the emotional stakes go even higher, said David Clohessy, national director of Survivors Network of those Abused by Priests. "In one fell swoop, when a bishop declares bankruptcy, some Catholics move from sympathy to anger regarding victims."

Ramifications

For the attorneys, as well, such cases can get personally troubling.

Pfau used to attend St. Joseph Church near his home on Seattle's Capitol Hill. But at one point, "I just said: 'I can't go into a Catholic church any more.'

"Thousands of kids have been sexually abused by priests. That caused me to question the faith I grew up in. It caused me to withdraw from it."

He's begun to go back once in a while, but "with grave cynicism and lot of skepticism" about church leadership. His children — a 3-year-old son and 1-year-old daughter — are baptized Presbyterian, his wife's religion.

Still, Pfau and Kosnoff said, they have witnessed positive moments: the bonds forged among abuse victims. The painful secrets some kept for decades finally being revealed to family and friends.

The two have taken on other institutions as well, including the Boy Scouts of America and the Mormon Church, the latter case resulting in a recent $4.2 million jury award to two women abused by their stepfather, a Mormon priest.

Their next big case will be against the Morning Star Boys' Ranch in Spokane, a Catholic home for boys where allegations have surfaced of physical and sexual assaults dating back decades.

"There are so many victims who tell basically the same story," Pfau said. "We're looking forward to digging in and finding out what happened there."

Janet I. Tu: 206-464-2272 or jtu@seattletimes.com